Unwanted hairs on the body never feel good, especially when they are coarse and present in abundance. That's why people often search on Google for "hair removal near me" and yet stay confused when it comes to finding a salon or choosing the right product. We know it's not easy to find the perfect answer for permanent hair removal near me.
Many are there who can't afford hair removal in the salon. In addition, you are not going to get any privacy there. You can't also expect them to function all the time, as happened during the pandemic when all get closed.
In all such cases, it's necessary to find an economically feasible alternative, which we will share here in this article. We will also differentiate between laser hair removal and the modern way you can go for hair removal without even visiting the salon.
What is Laser Hair Removal in Salon?
Traditionally, women used to remove their hair using shaving, and then they learned different ways to pull their hair. It was followed by threading, waxing, sugaring, prescription cream, electrolysis, and laser hair removal.
People with an abundance of hair on their skin prefer to remove it permanently. It's especially true in the case of women who like to flaunt their natural beauty or move with grace and confidence.
For them, laser hair removal is an effective method of removing unwanted body and facial hair. It utilizes a special kind of high-intensity light that emanates heat and destroys the active follicles at the root level. This prevents the re-growth of hair for years. Nowadays, you can get laser hair removal done quickly in a dermatologist's clinic, but it's not as safe as you are thinking.
Disadvantages of Laser Hair Removal in Salon
Although laser hair removal is pretty popular and adopted by salons, there are some side effects which you need to consider before going for it.
1)   
Redness and Irritation
Laser therapy is not suitable for all skin types. Some people with delicate skin may have to suffer from redness and irritation. Your skin can also swell for some time post-laser therapy.
2)   
Color Alteration
You will notice some changes in the color of your skin after going through a laser hair removal procedure near me. People with light skin types will see darker pigmentation changes.
3)   
Eye Injury
Lasers used in hair removal emit high-intensity light. As a result, there are chances of severe eye injury during facial hair removal if protective eye equipment is not used.
4)   
Skin Infection
If you are already suffering from a skin infection, going for laser hair removal without a dermatologist consultation can worsen the situation.
5)   
Scars or Blisters
Laser hair removal uses high-heat lasers, so you never know what effect it will have on your skin. If the practitioner ends up making any mistakes, it will lead to scars or blisters.
Is there any alternative to laser hair removal?
Yes, there is but we aren't talking about traditional ways or electrolysis. Imagine all your unwanted hair is removed permanently using a simple device at home; Ulike IPL hair removal can do so for you.
What is Ulike IPL hair removal?
Ulike Sapphire IPL hair removal offers a painless way to get rid of all the unwanted hairs from your body. It can do so without making you compromise your privacy and comfort. Indubitably saying, it's an amazing device that is remarkably getting popular among people all over the world. The technology of this product has been proven safe and effective by extensive clinical testing under dermatologist supervision.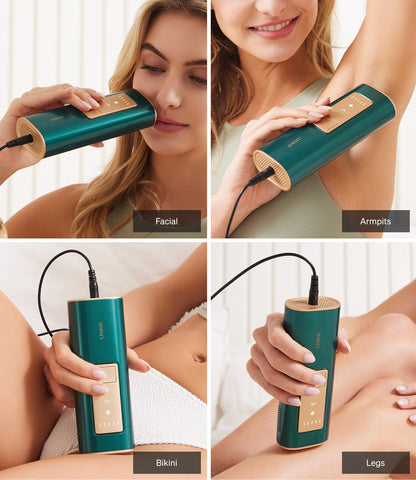 How it works?
Ulike IPL is equipped with the fifth generation A++ grade patented sapphire ice-cooling technology. It produces intense pulsed light from the sapphire placed at the head. When turned on, the temperature falls to 10 degree Celsius which also prevents the harmful UV light from hitting your skin.
Many improvements have been made from its predecessor (fourth generation) including the replacement of concave light windows with a flat design. This is because the former one used to consume high energy and the effectiveness level was low. Even cleaning it was difficult but all these have been fixed in the latest Ulike UPL product. Now, effectiveness has increased to 25% and cleaning has become a lot easier than earlier.  
Benefits of Ulike IPL Hair Removal
1)   
Get Rid of Unwanted Hairs Permanently
Ulike IPL helps you to permanently remove your unwanted hair without the help of any professional or practitioner. It shows effectiveness in 4 weeks of use.
2)   
Safe for Your Skin
It works on every skin type without causing any damage to it. Don't worry about any side effects. Most importantly, it's FDA approved, so it's completely safe to use on your skin.
3)   
Get Privacy
In salons and dermatologist's clinics, you will never get privacy. Additionally, if you are uncomfortable with the touch of strangers, Ulike IPL is the best option. Not only can you remove your hair in your private space, you will also be doing it yourself.
4)   
Lightweight and Portable
You can carry this device anywhere in the world. It weighs 284g and its size is so small that you can even put it in your backpack.
5)   
Affordable
Instead of paying high amounts to the dermatologist or salon owners, why not get Ulike IPL, which comes with a 90-day money-back guarantee, three color choices, and an affordable price?
Summary
So now what are you waiting for? Get ready for hair removal without facing any inconvenience. Ulike IPL is going to make this easy for you. Although laser hair removal is effective it's only to some extent. Moreover, you will have to make a physical visit in order to get hair removal done right.
On the other hand, buying Ulike IPL means you can remove hair at your home and under your private space. No more there will need of searching for permanent hair removal near me or spending a huge amount on salon hair removal. For better results, you can choose Ulike IPL as it brings a better than salon-like experience at your home.