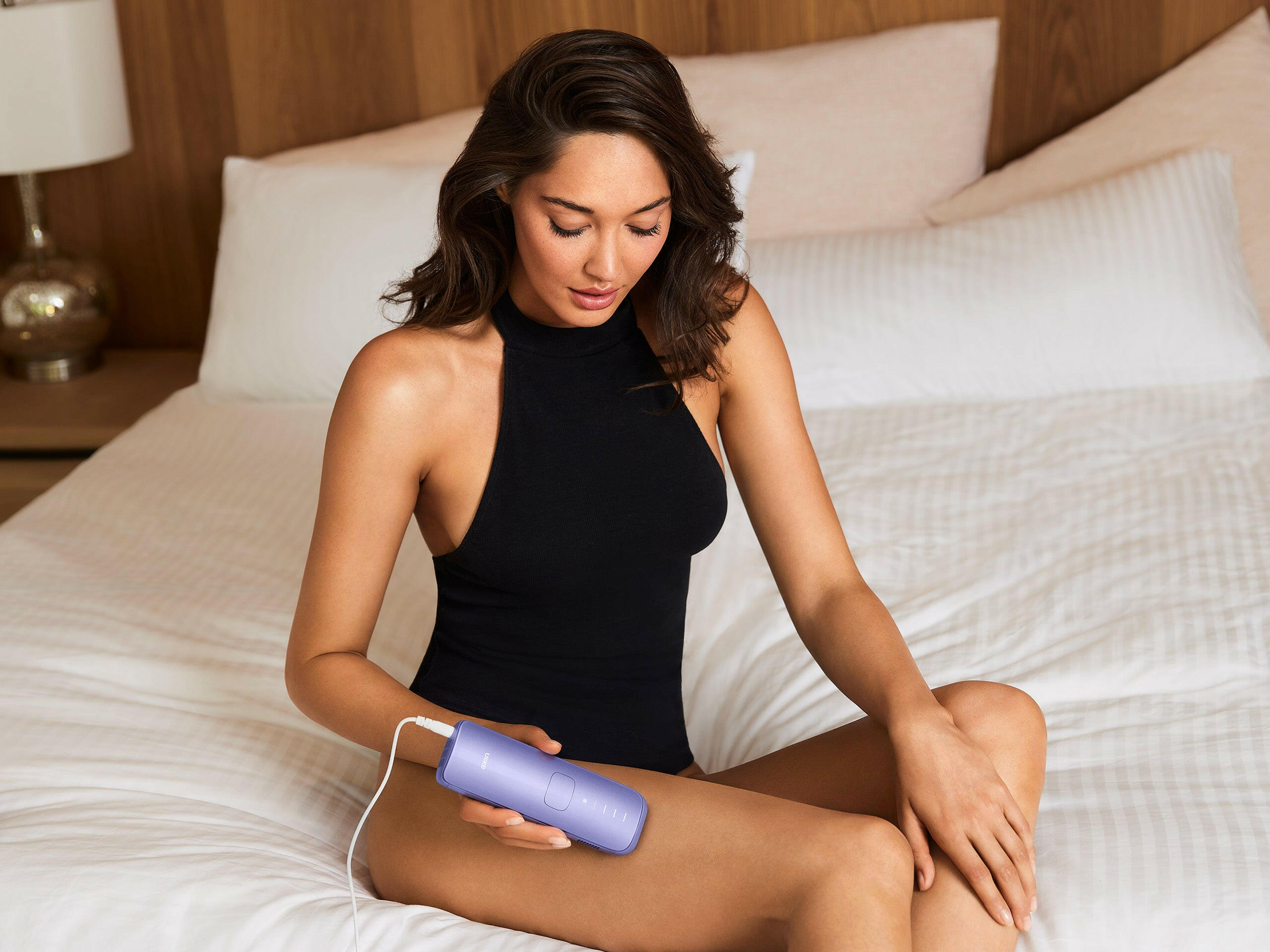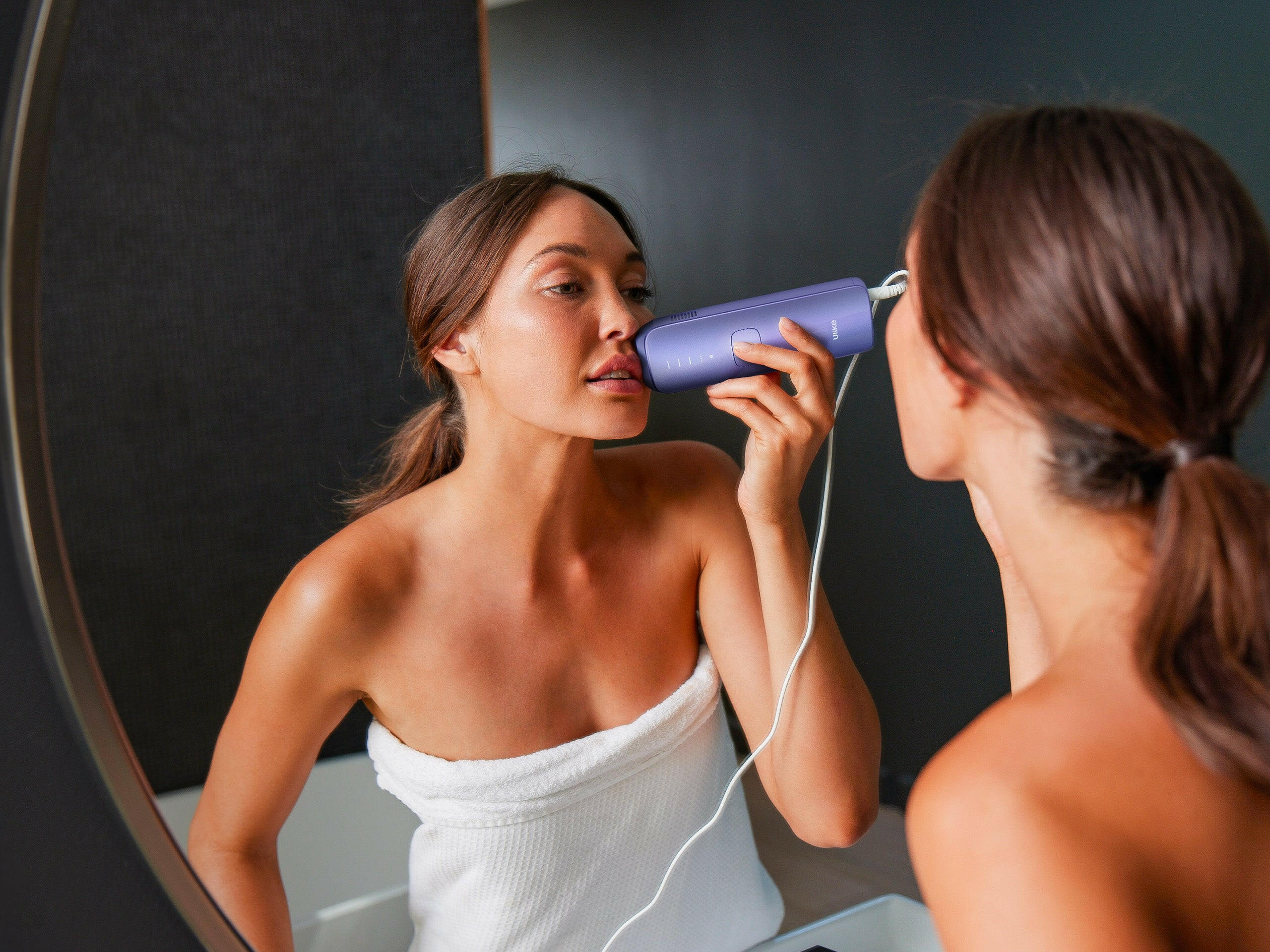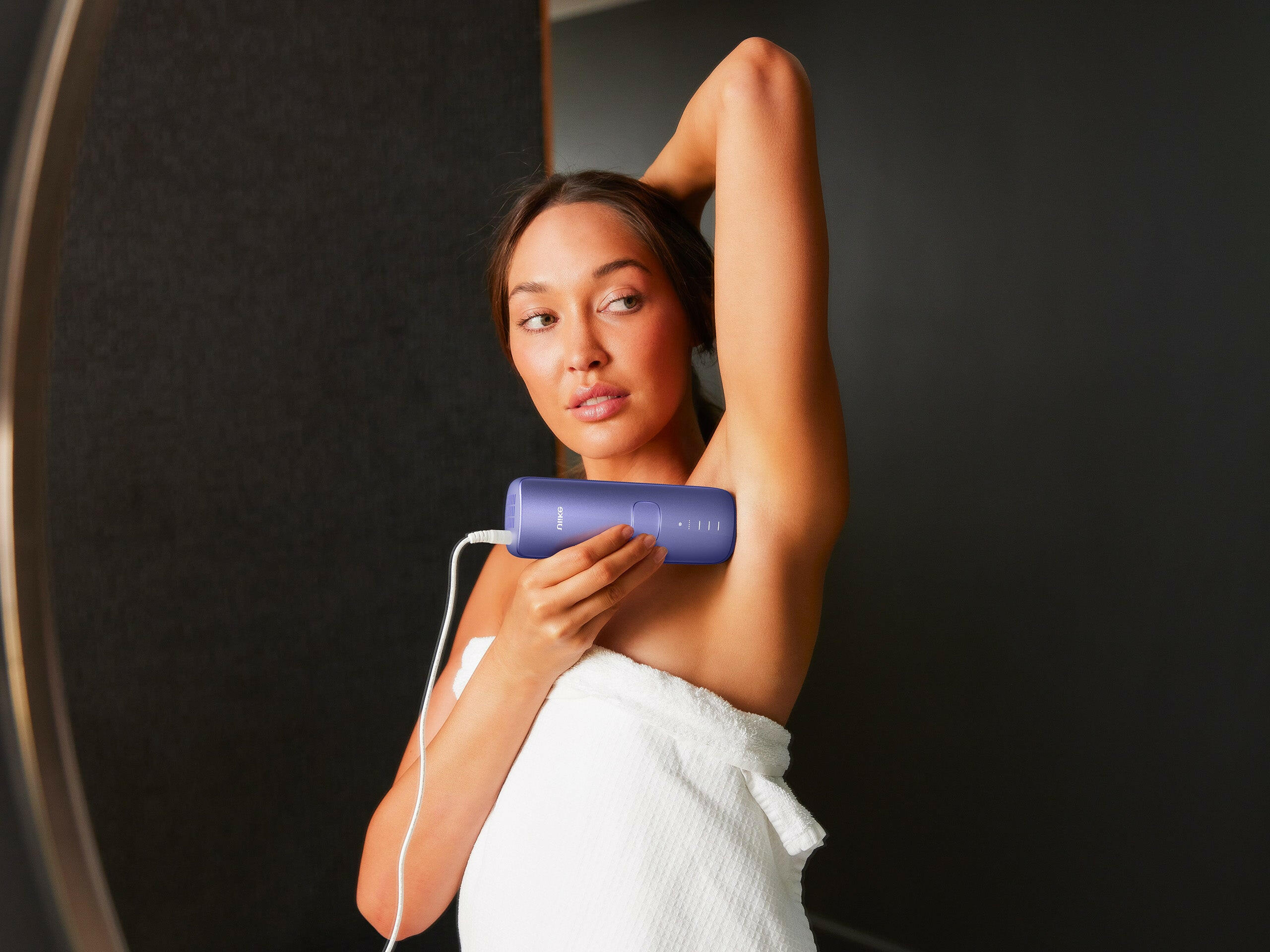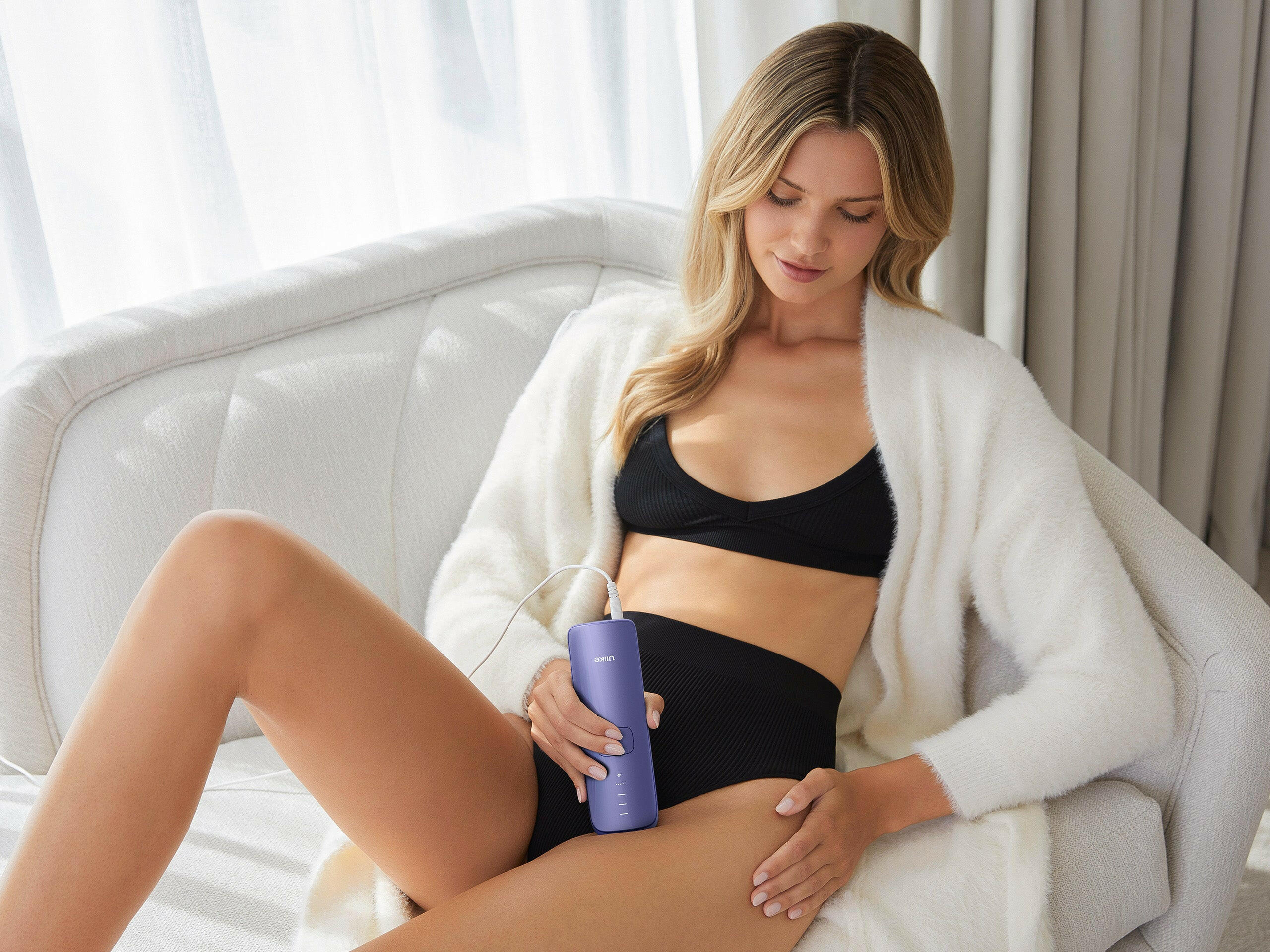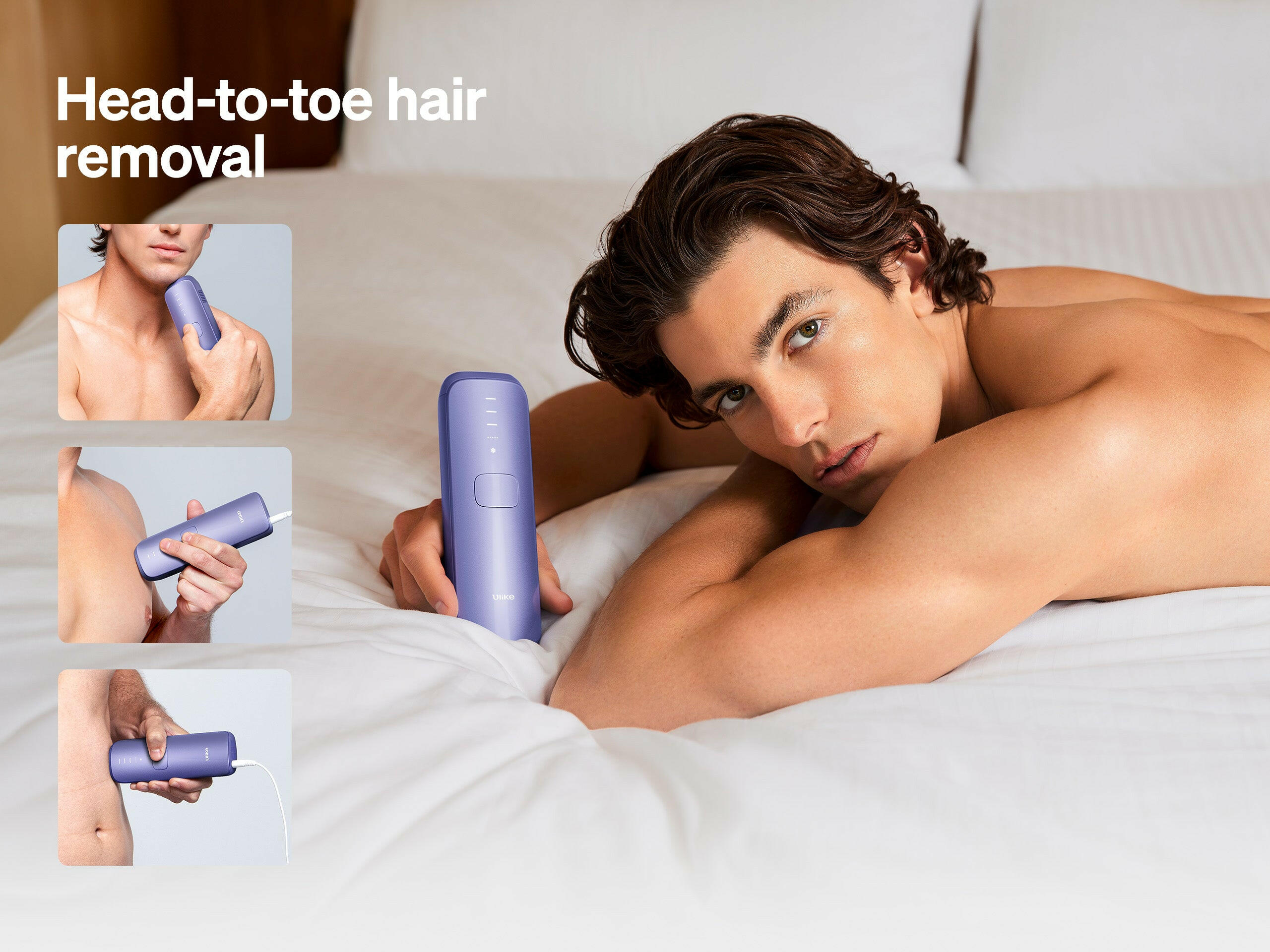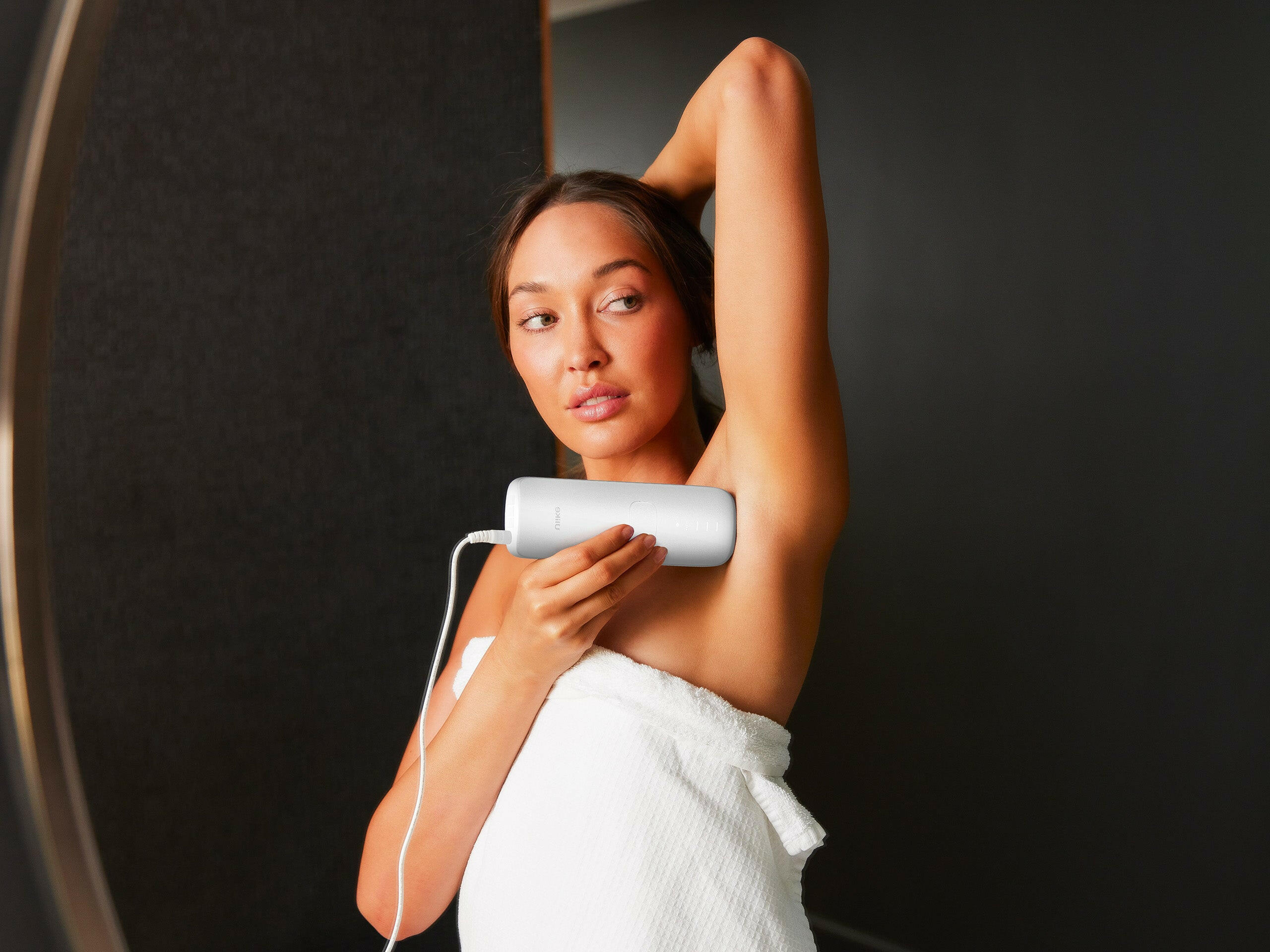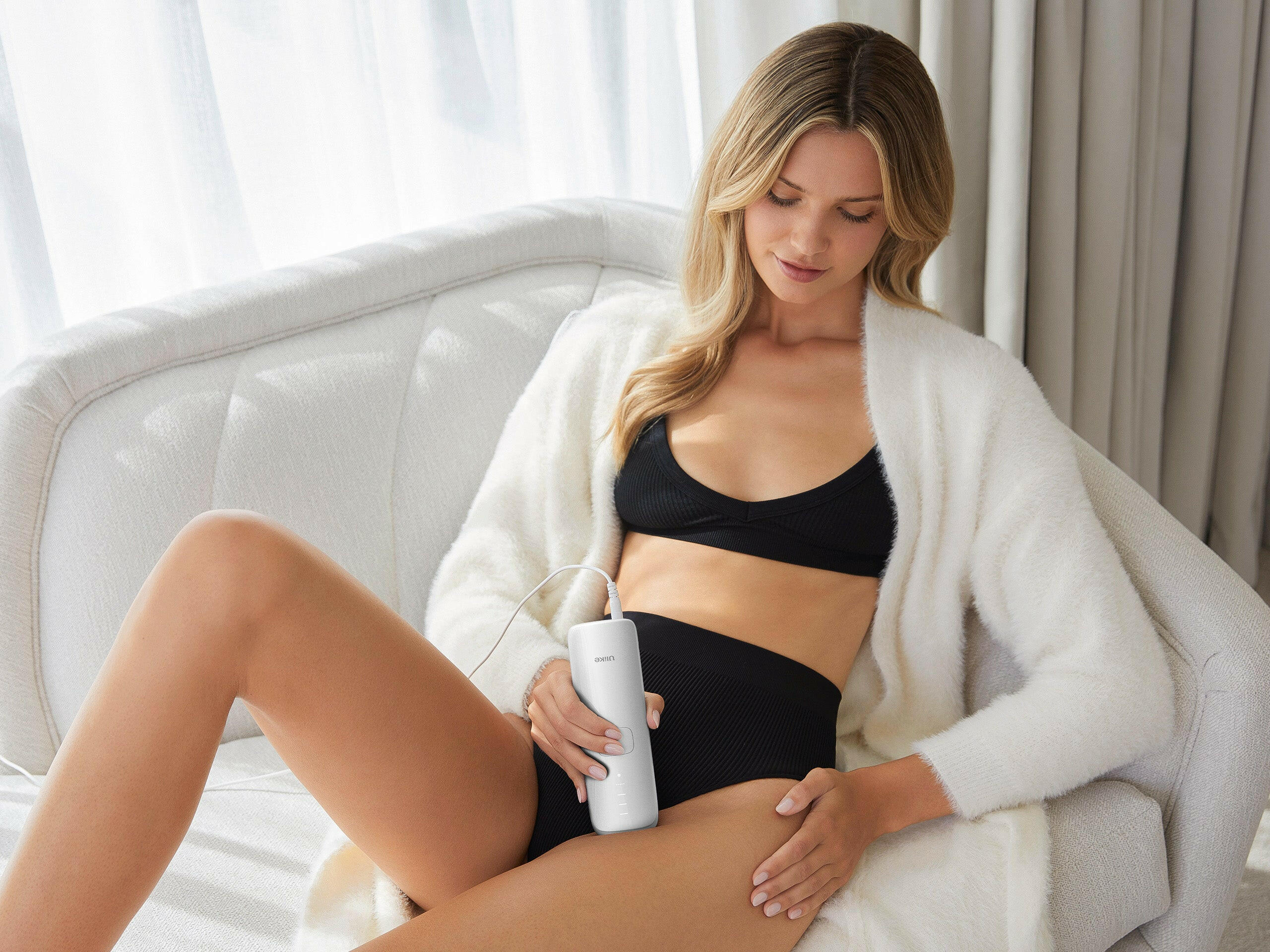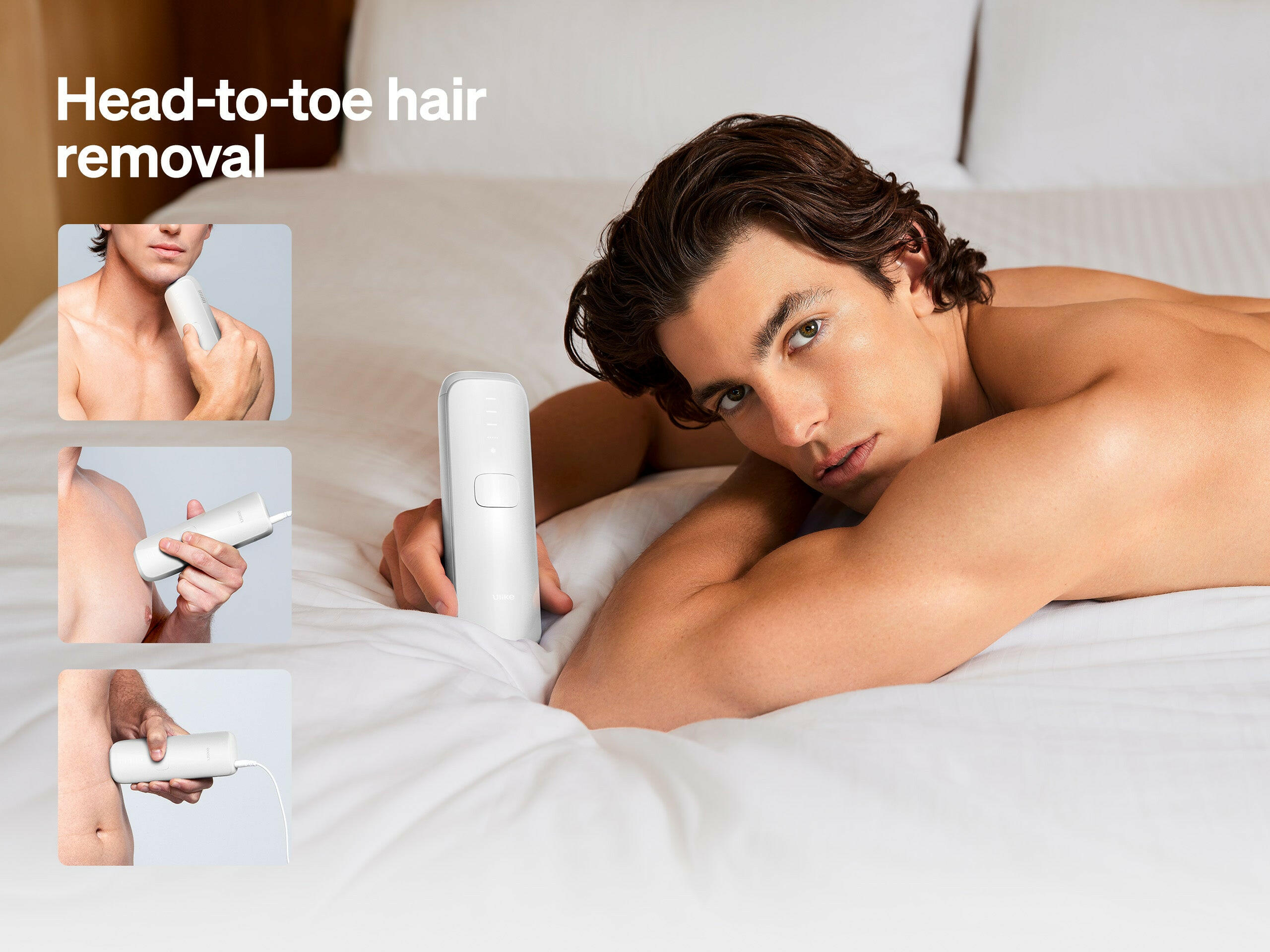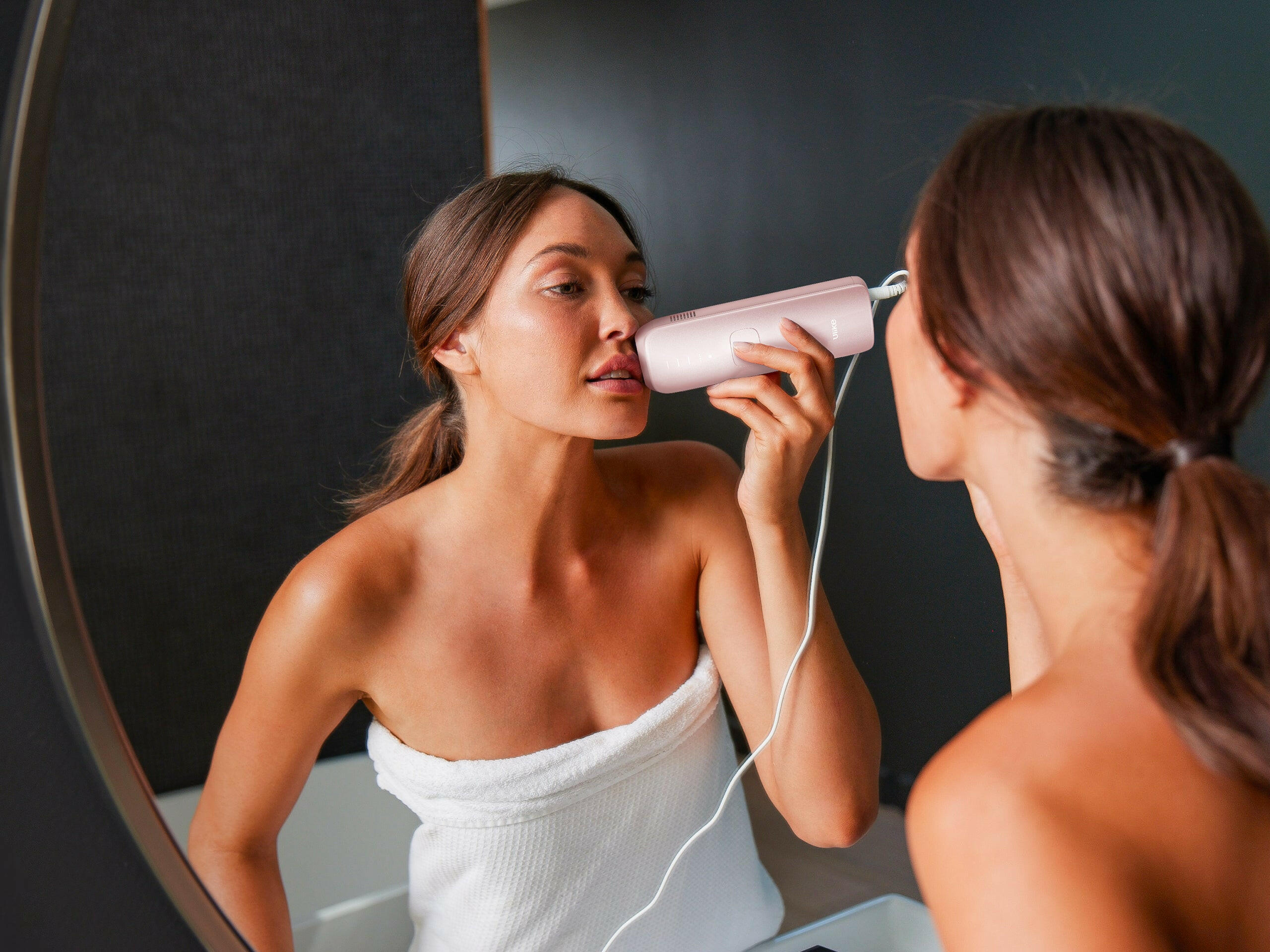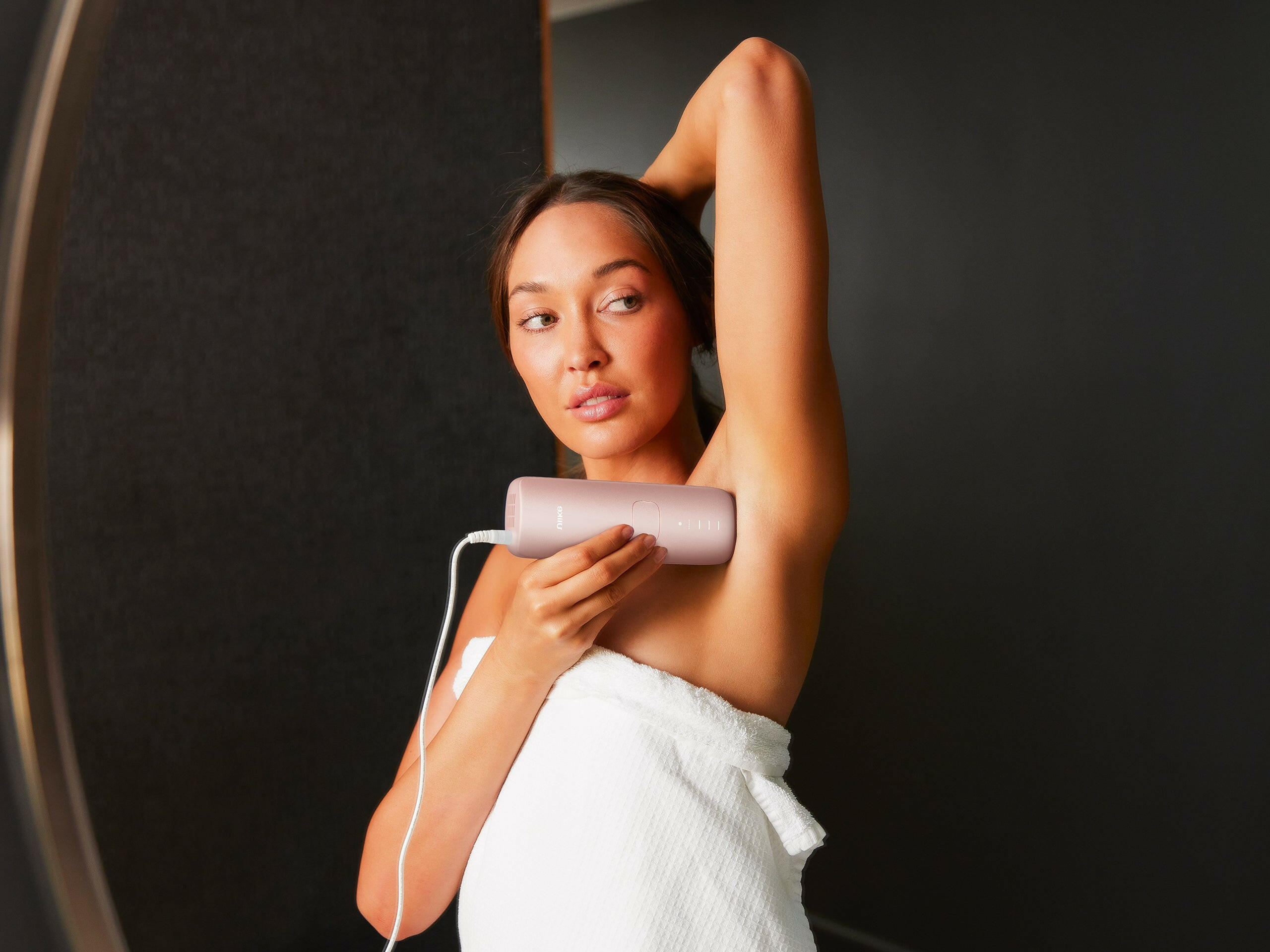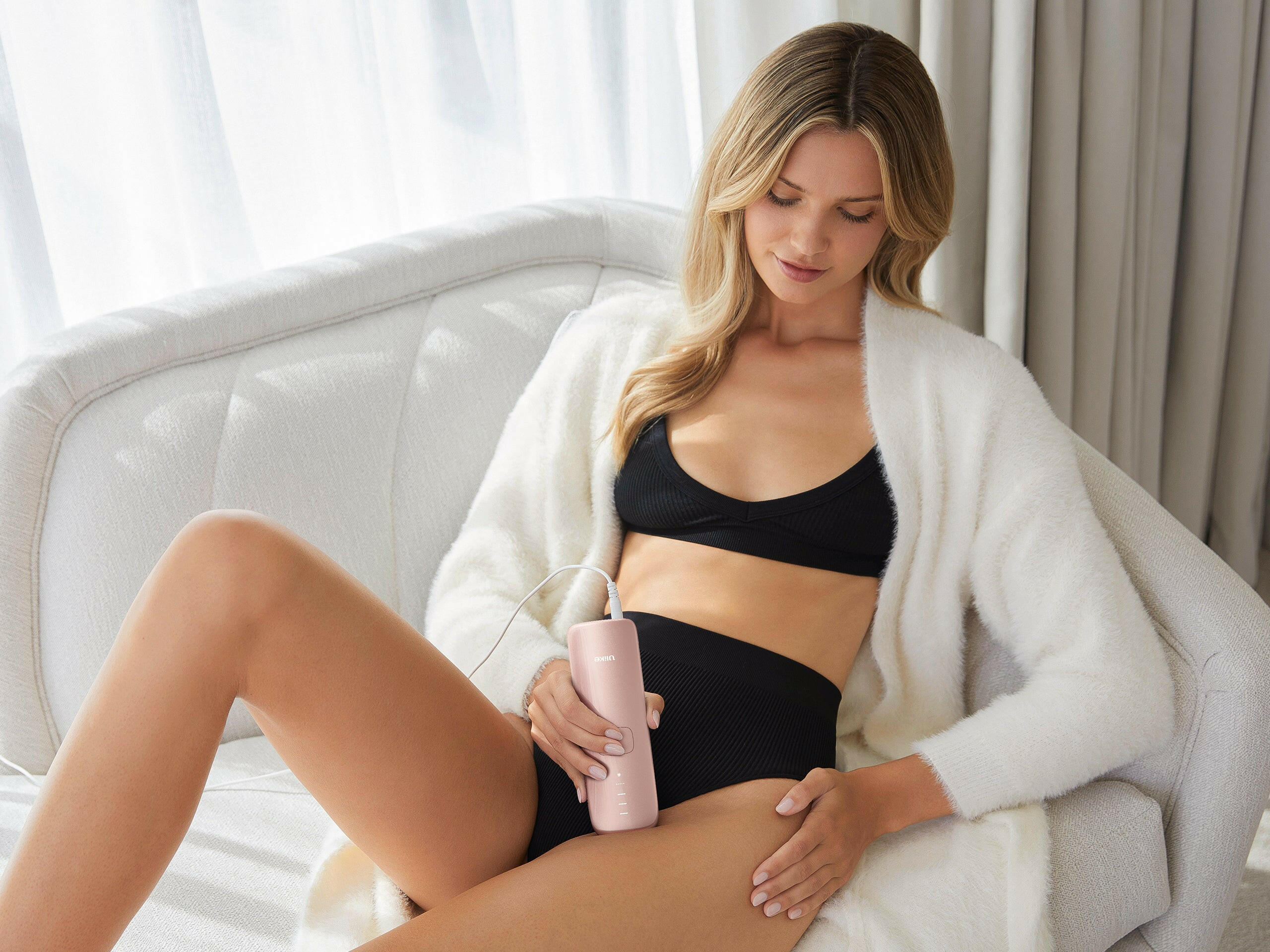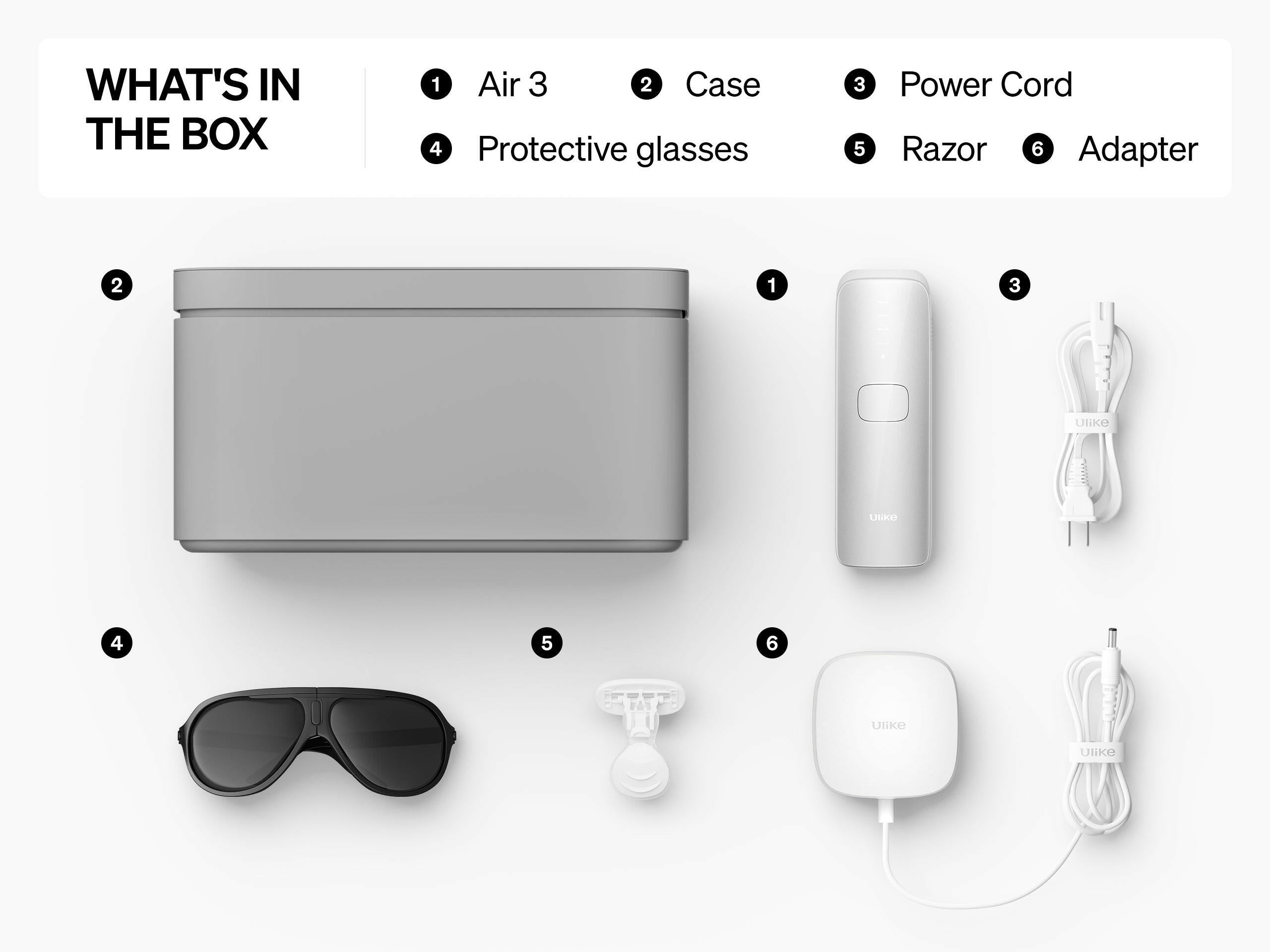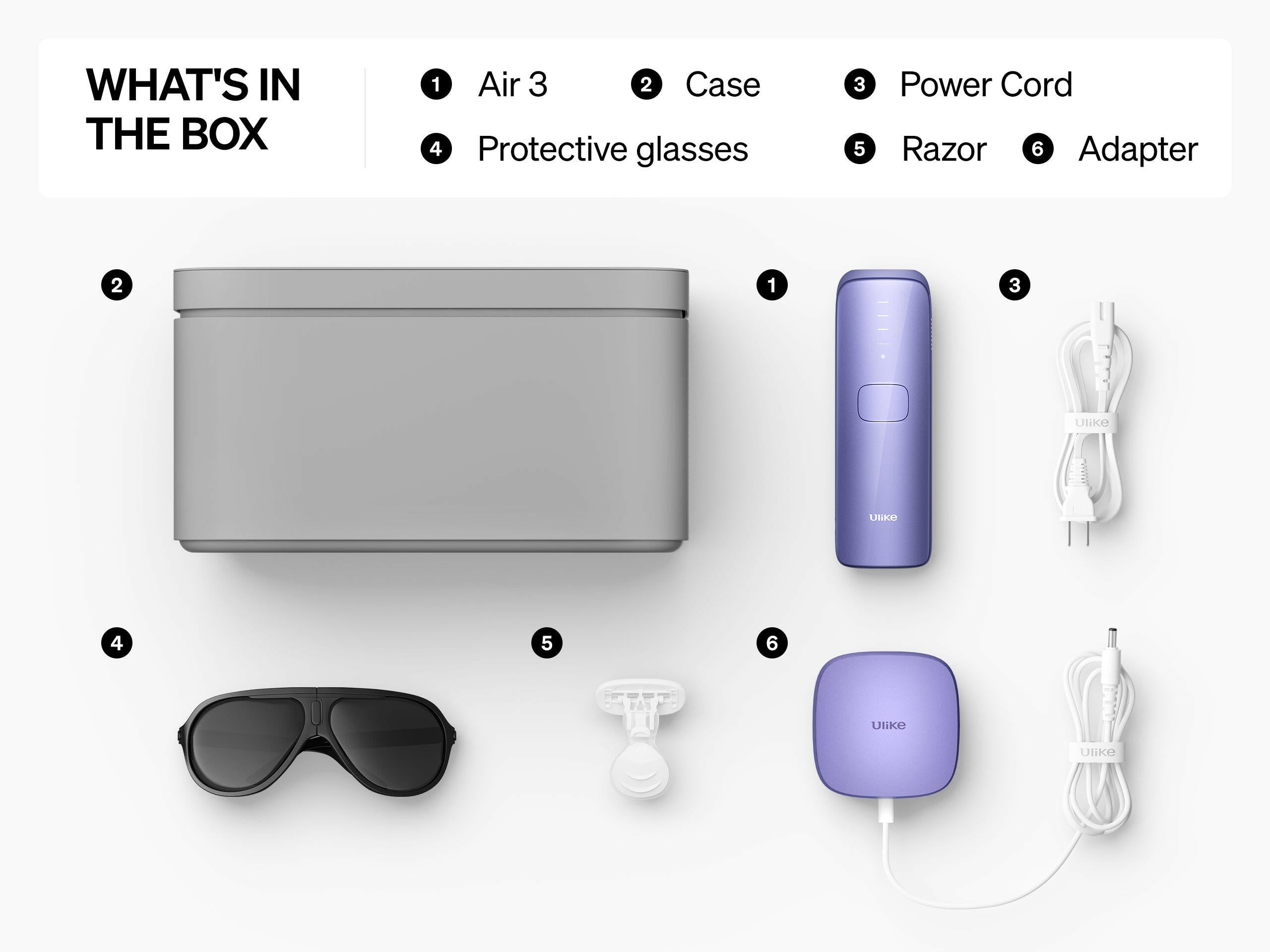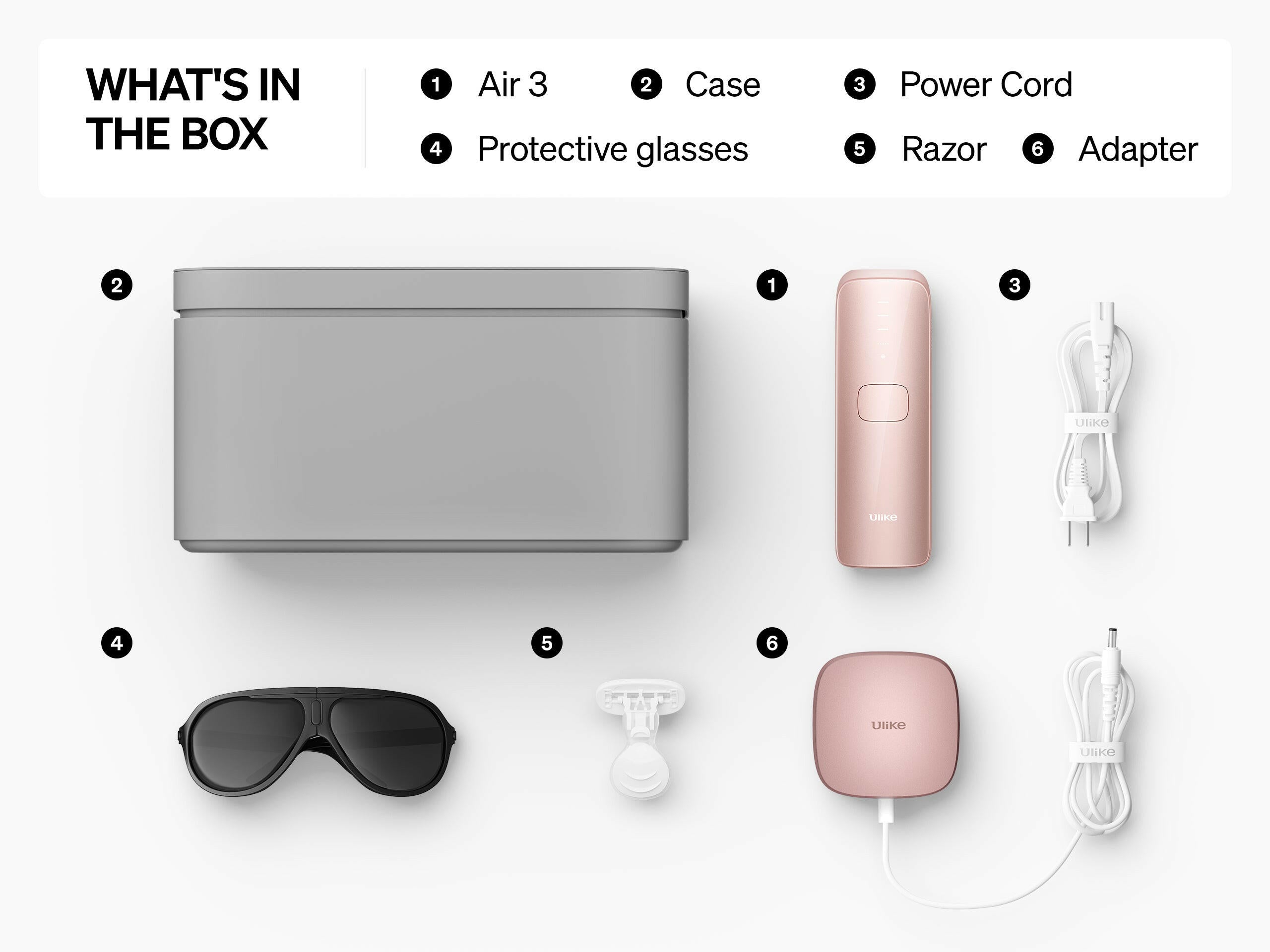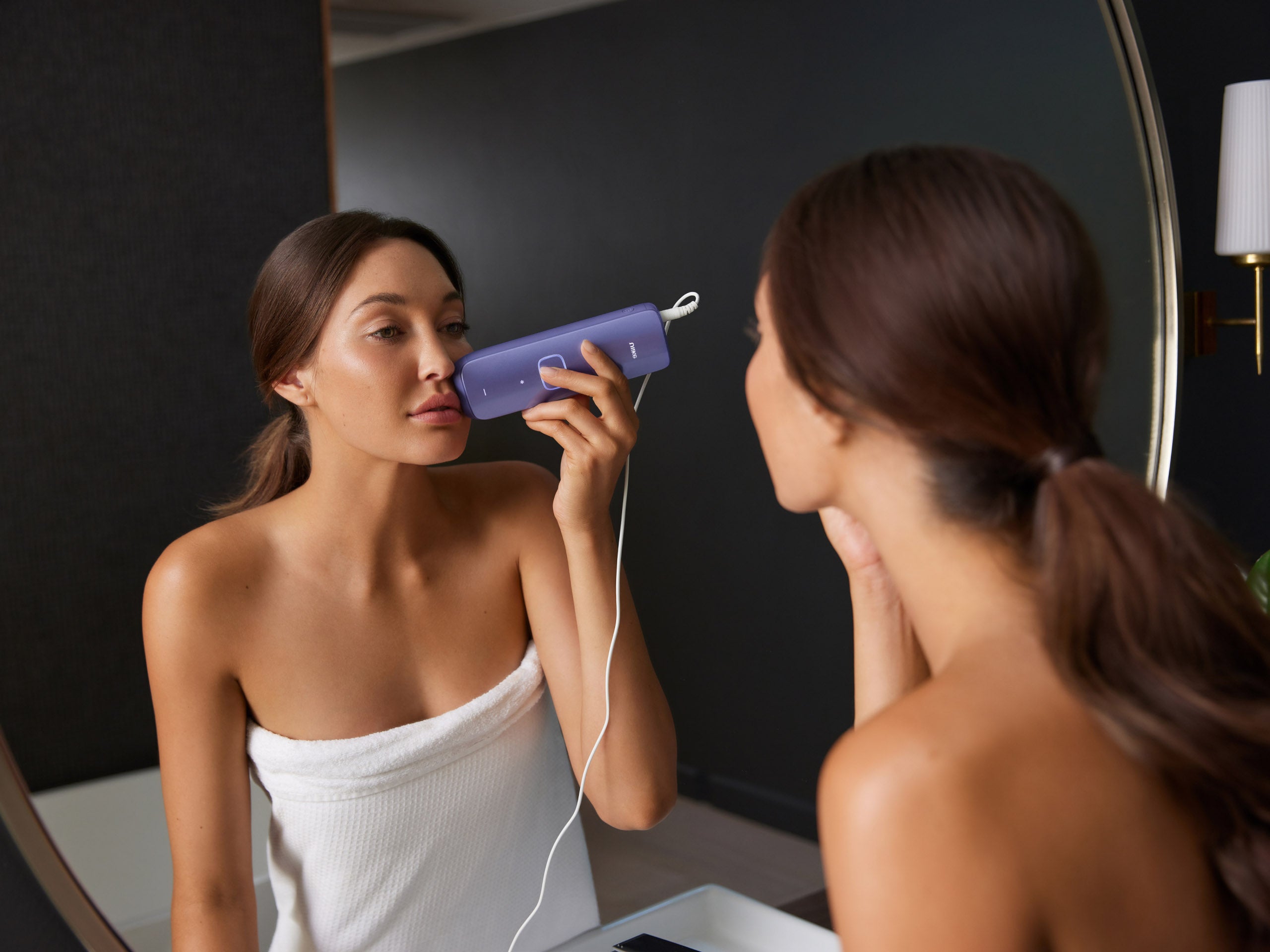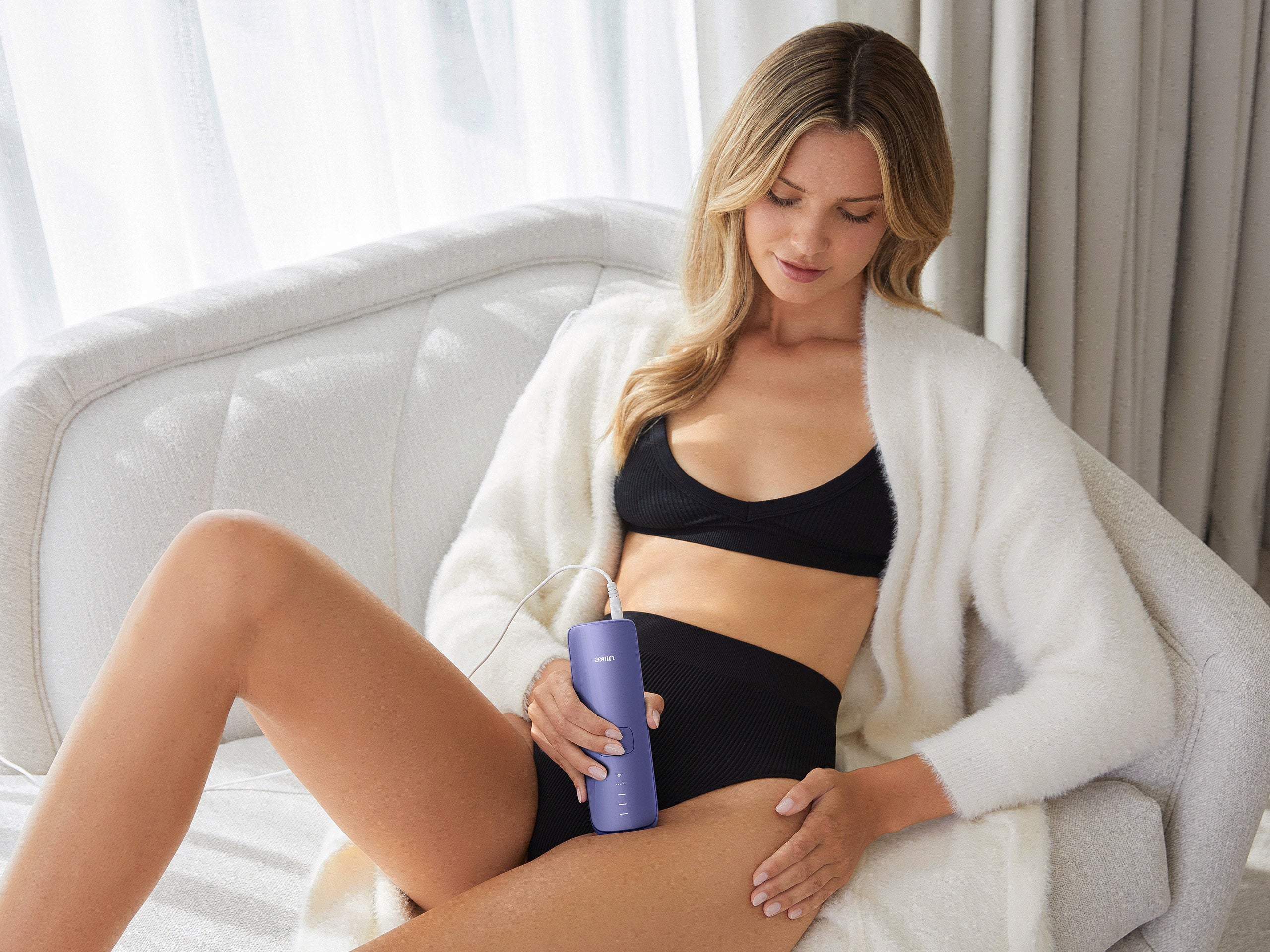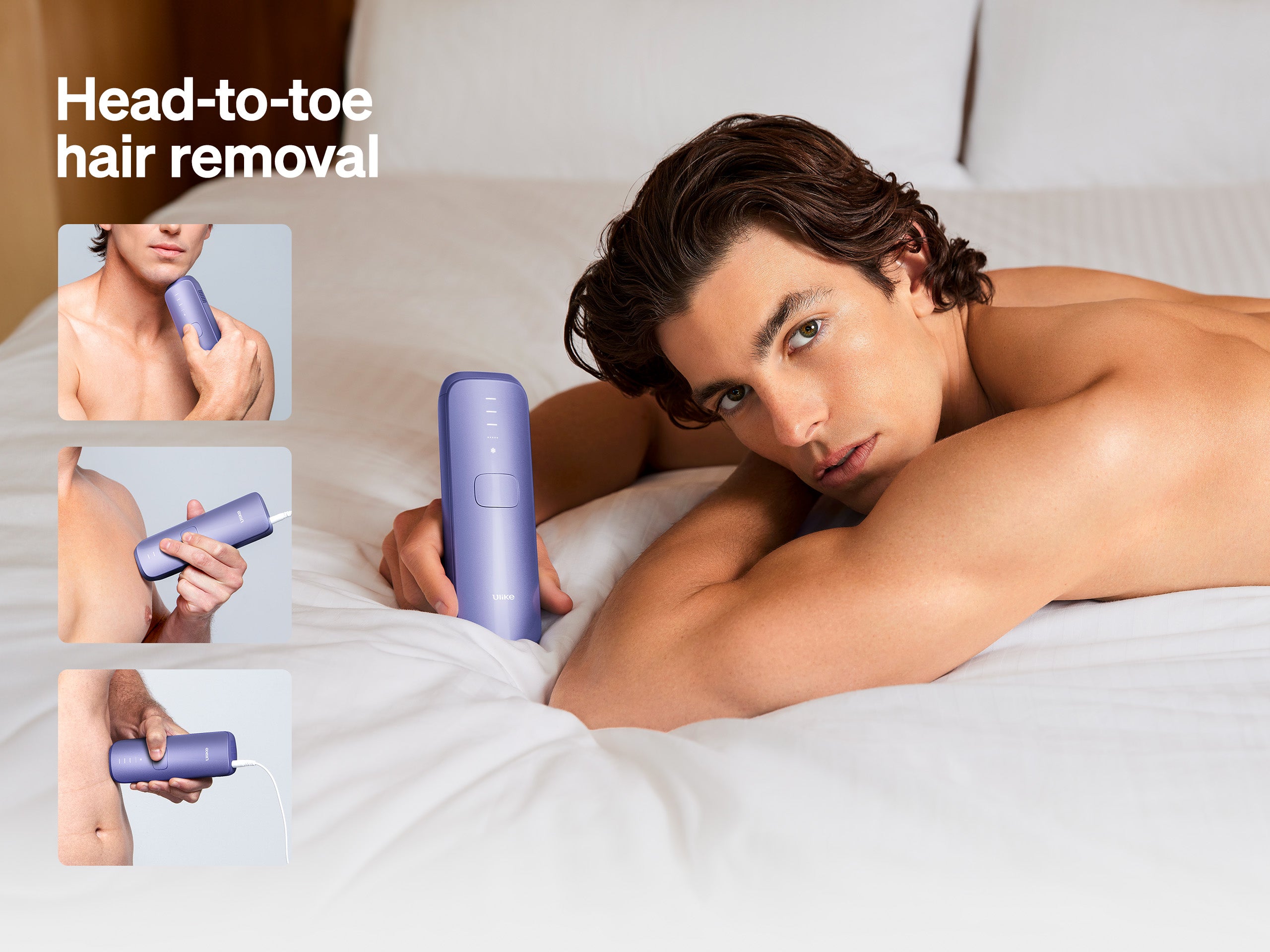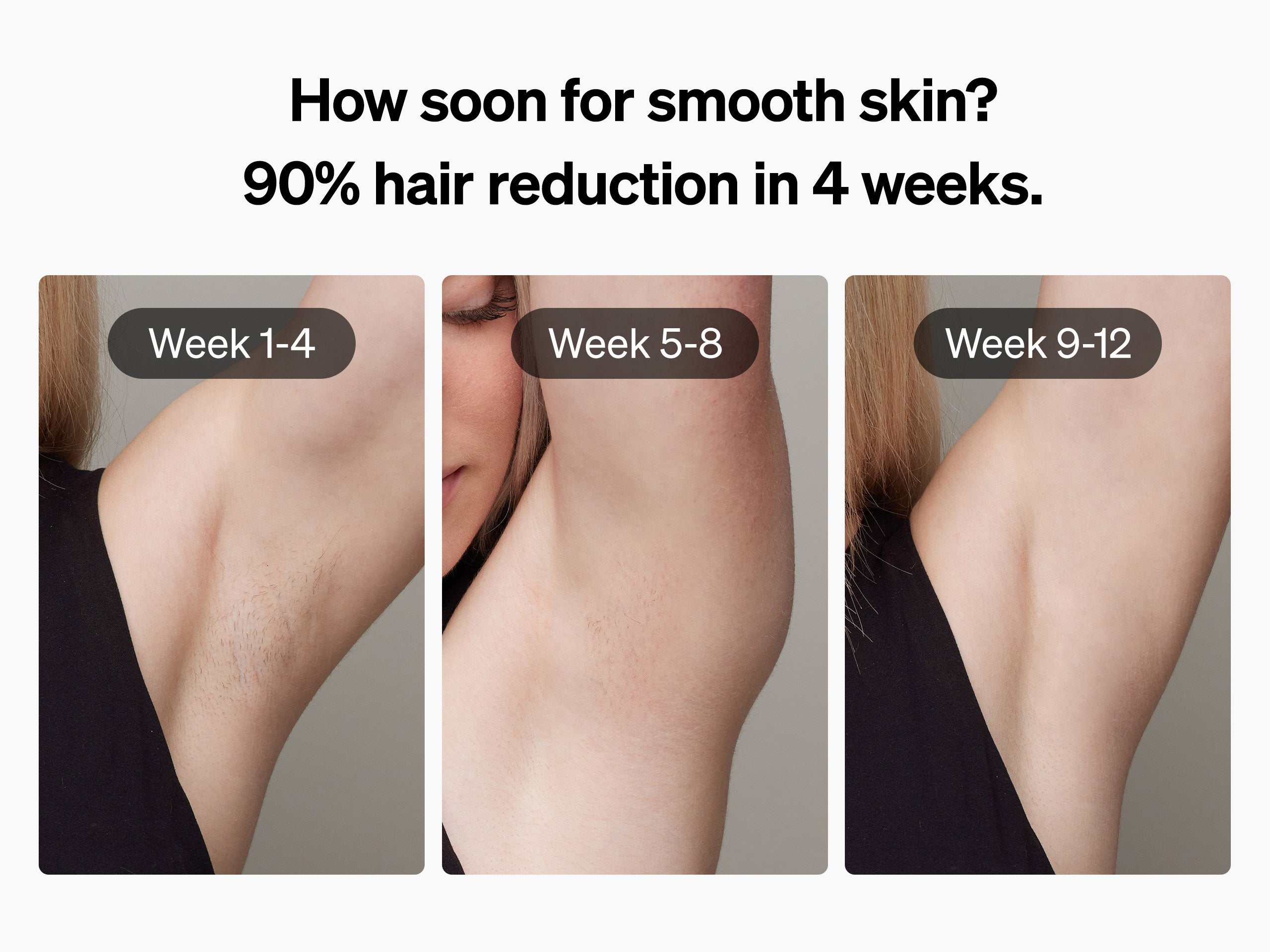 Ulike Air 3
IPL Hair Removal Handset
Long-lasting hair removal from the comfort of home.
■
90% Hair Reduction in 4 Weeks
■
Visible Results in Just 2 Weeks
■
Sapphire-Ice Cooling and UV filter
As seen in POOSH by Kourtney Kardashian
90-Day Money Back Guarantee
Quantity:
Buy 2, get extra $70 off
* Estimated Delivery Time: Dec 12-15.
Fast & Free Shipping
90-Day Money Back
2-Year Warranty
24/7 Support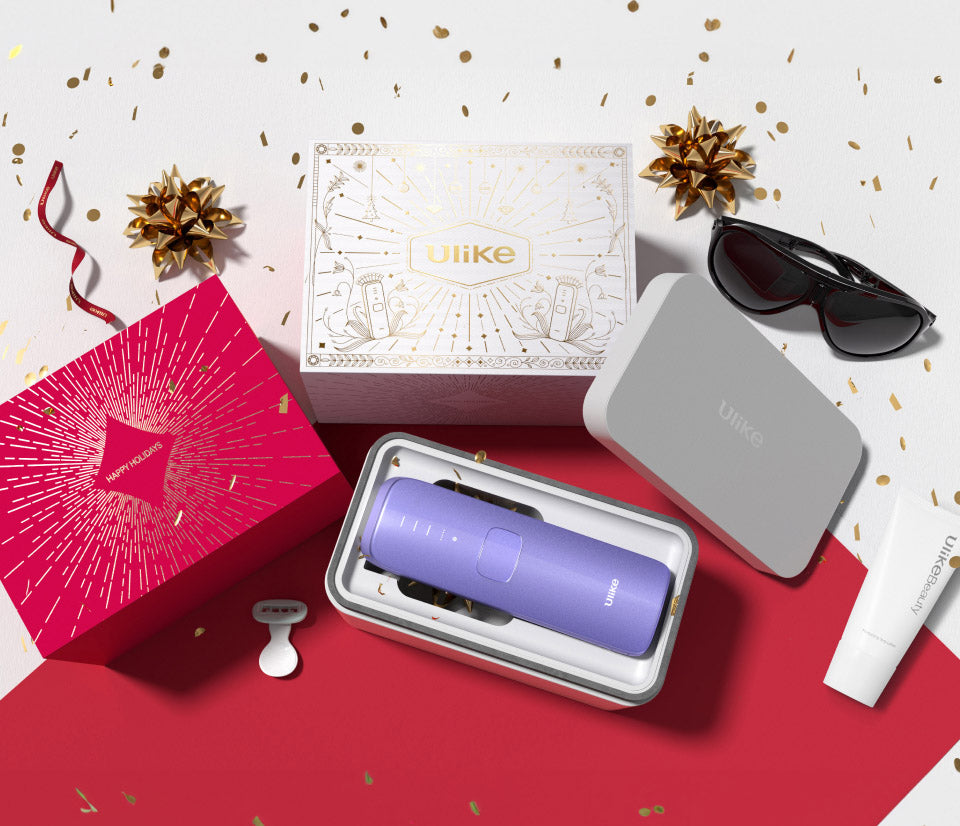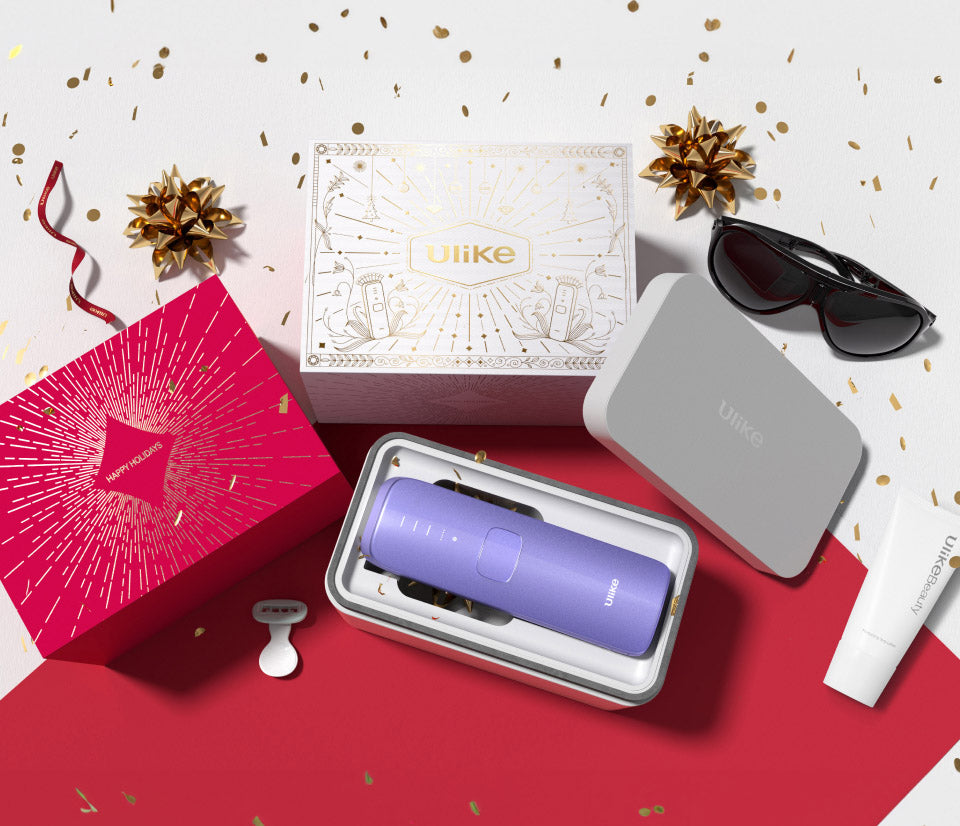 A holiday gift
With the holidays quickly approaching, there's no better time to treat yourself or a loved one to Ulike IPL.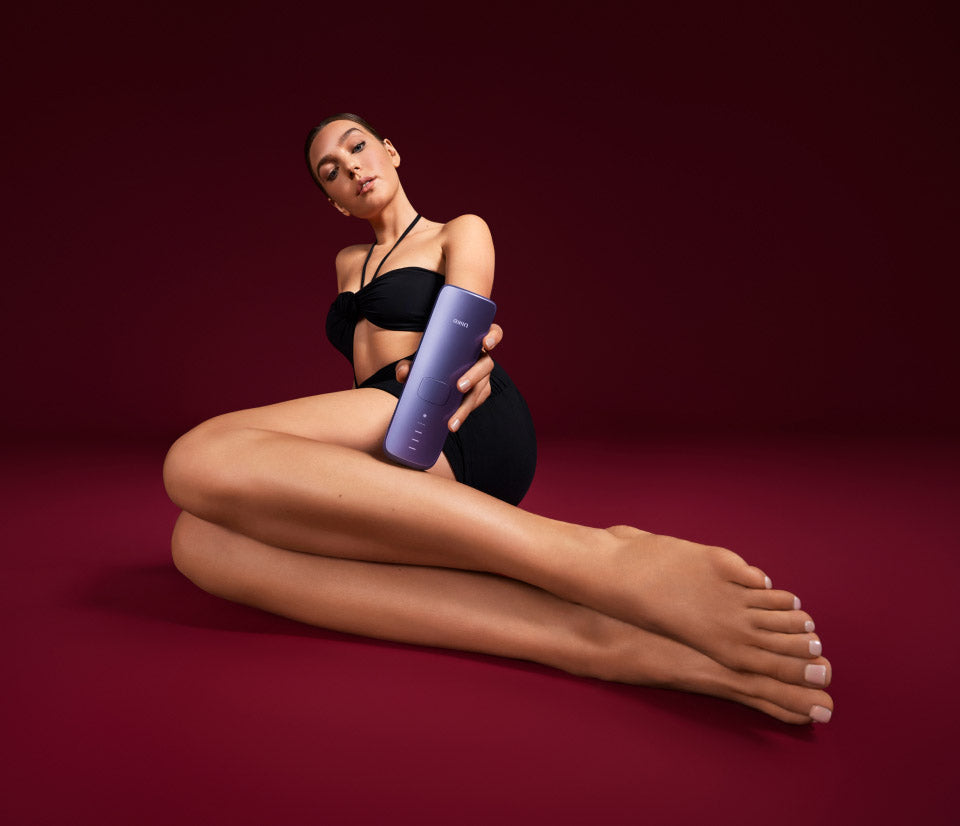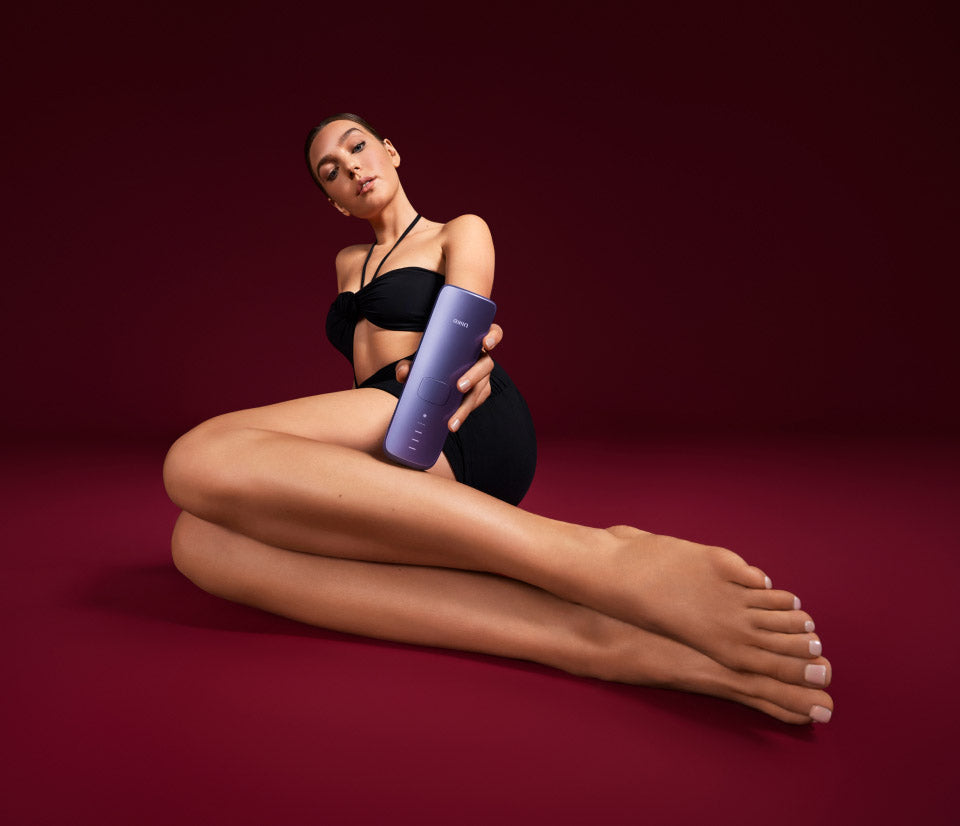 Go hair free with Air 3
The Air 3 combines effective, long-lasting hair removal with a painless experience and unrivaled skin protection.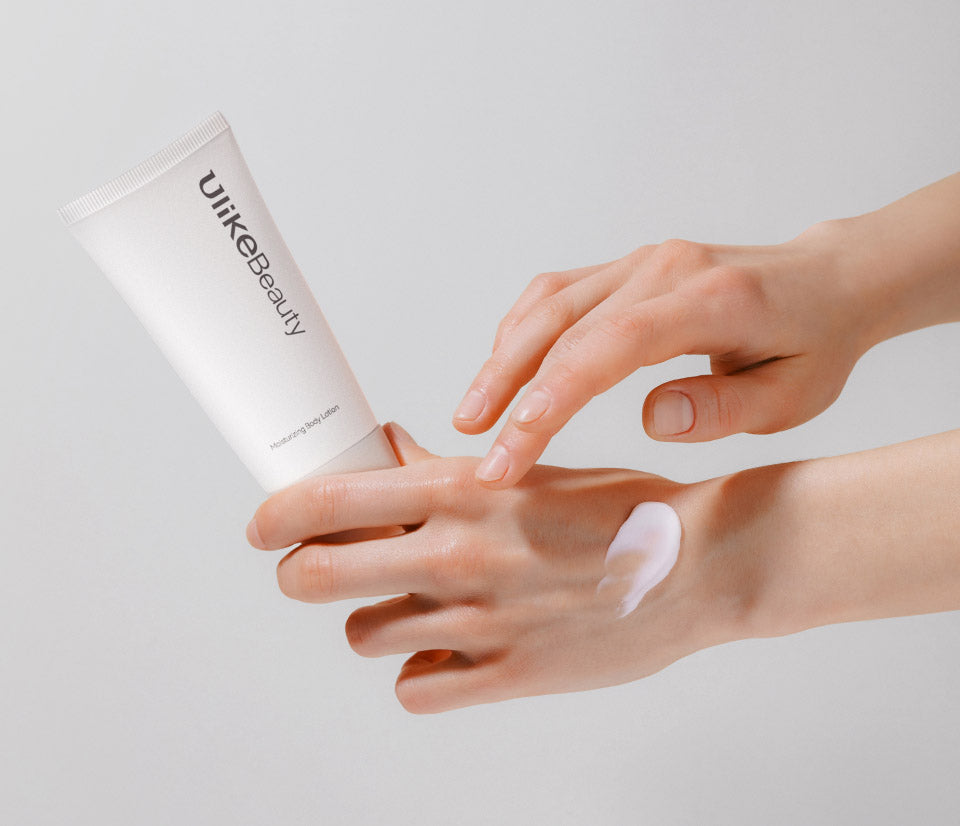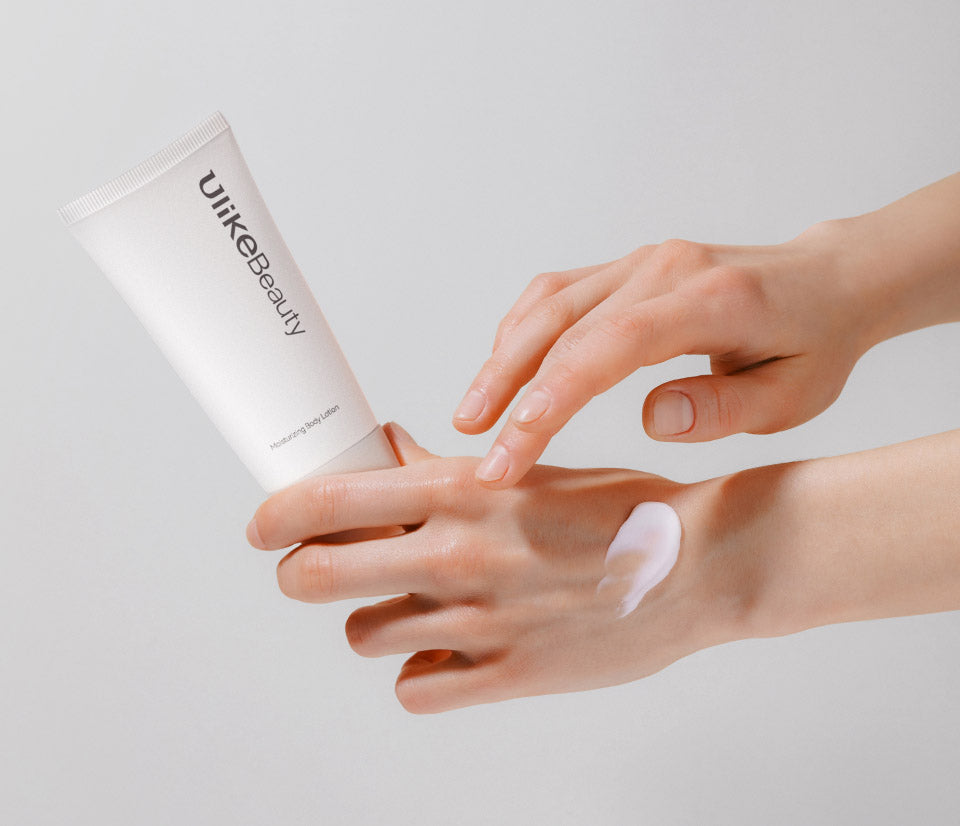 Healthy smooth skin
The gift set includes our new moisturizing lotion, perfect for rejuvenating and hydrating your skin.
Say hello to skin you'll love.
Air 3 gives you visible results in 2 weeks.
Before
After
The only way I remove hair now!
Doesn't hurt at all! I've been using it for a few weeks and already noticing a difference. Definitely going to tell my sisters to get one too!
Before
After
This device is magic.
After three weeks have noticed my leg hair has really thinned down. The hair on my stomach has already completely dissapeared.
Before
After
Hair is going away!
I love it! Upper lip, chin hair and armpits all perfectly smooth!
-
Mirabella Marchiorlatti
Before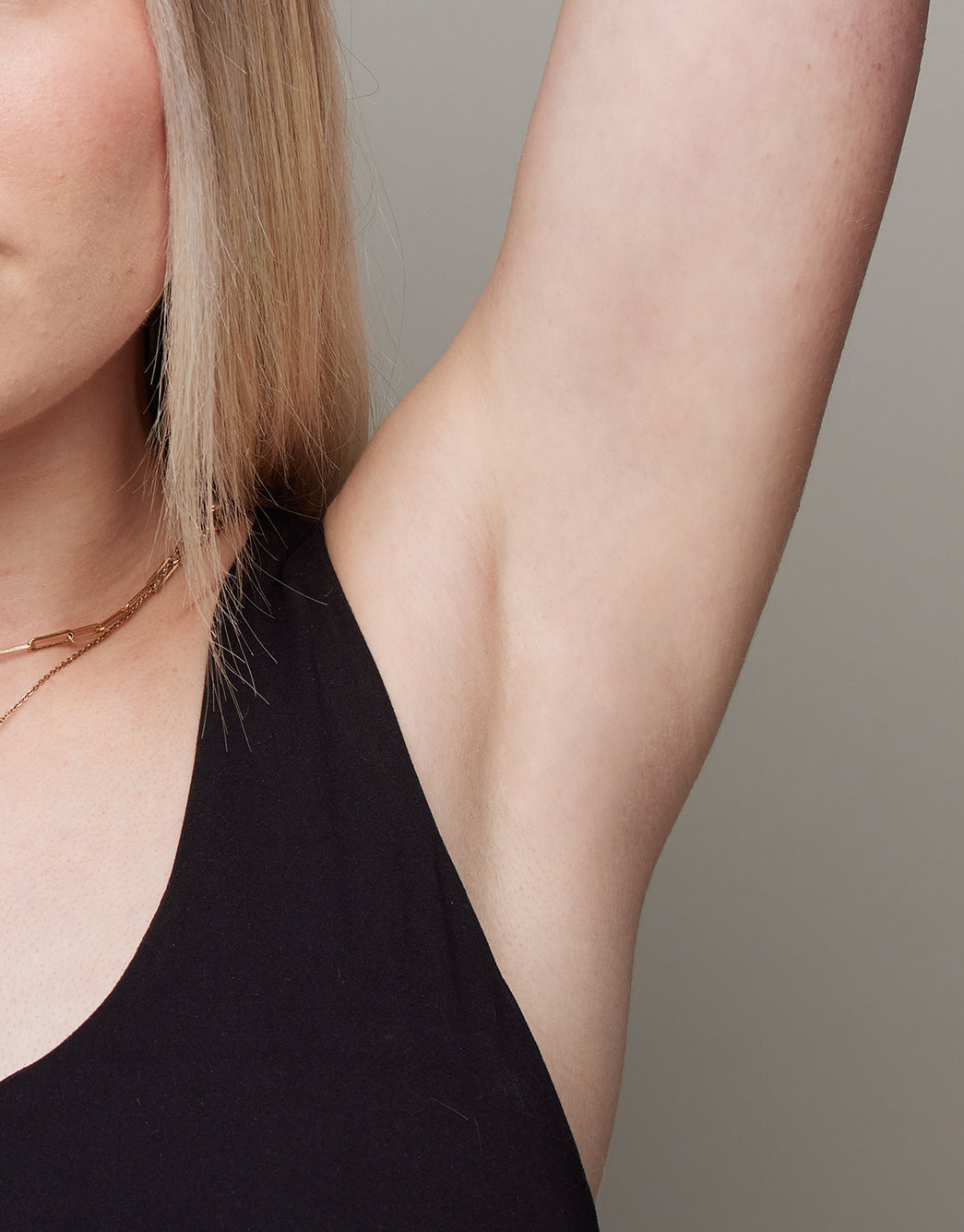 After
I recommend this 1,000 times!
I love Ulike, just 4 weeks and I already see a huge difference! Totally Painless!
Before
After
I'm enjoying the results!!
Absolutely worth the investment. I've used it for about a month now, a couple times a week and the results have been amazing. Will only be using it for touch-ups now.
90% hair reduction in 4 weeks.
1-4 Weeks
5-8 Weeks
8-12 Weeks
1-4 Weeks
3 treatments per week
In less than 4 weeks of consistent treatments, you'll begin to see visible hair growth reduction.
5-8 Weeks
1 treatment every two weeks
After 8 weeks of consistent bi-weekly treatments, the hair follicles start to shrink and the hair root begins to fall out.
8-12 Weeks
1-2 monthly maintenance treatments
Most people will have achieved desired results by this stage, with skin becoming smooth and hair-free.
Is IPL Right For You? Take Our Quiz!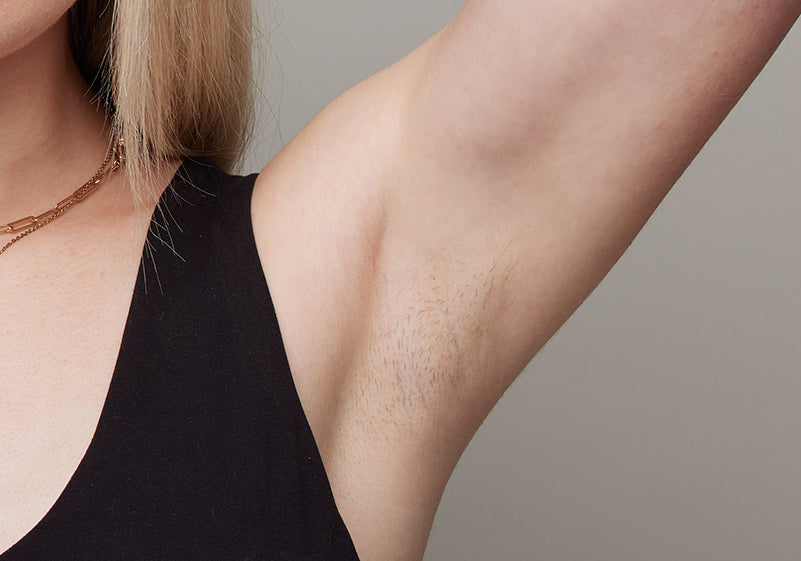 *The specific results vary from person to person, and the use time  can be extended according to the thickness of the hair until the desired results are achieved
*The specific results vary from person to person, and the use time  can be extended according to the thickness of the hair until the desired results are achieved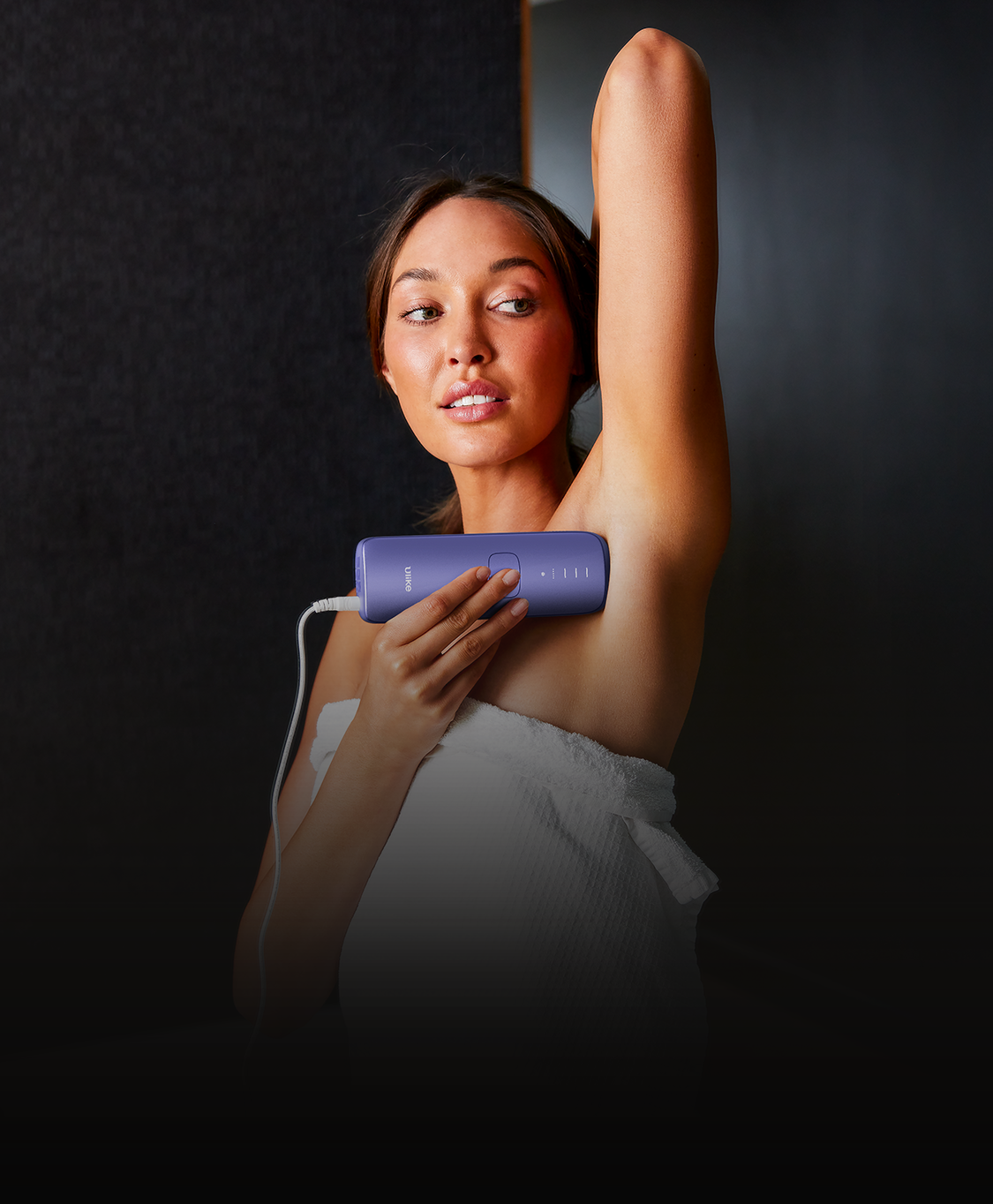 Long-lasting Hair Removal
Your routine made easier.
Finally. Hair removal that lasts — old ways of removing hair just can't compete. IPL provides a long-term hair removal solution, so you have more time for what matters most to you.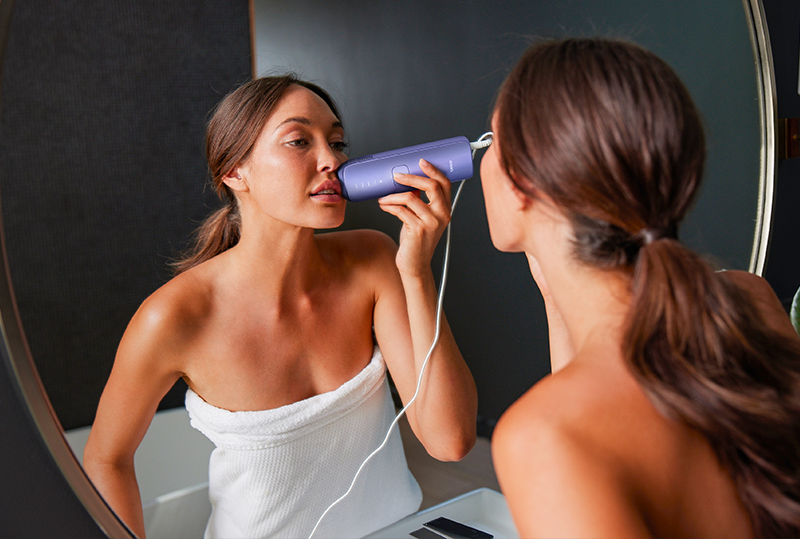 Sapphire Ice-Cooling™
Unrivaled skin protection.
Expert-backed, clinically tested, and over a decade of pioneering breakthroughs in IPL skin safety, including our built-in UV filter and patented Sapphire Ice-Cooling Technology™ for painless hair removal.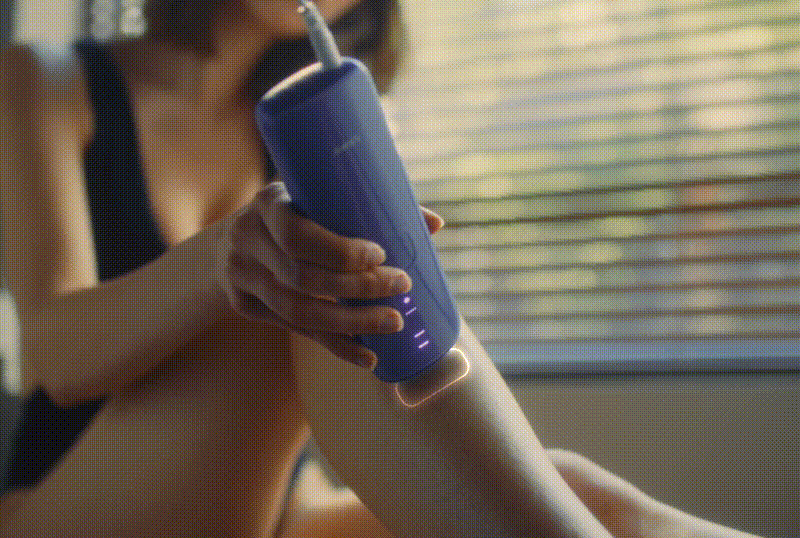 AutoGlide Mode
12 Minute full-body sessions.
Introducing, for the first time ever — Thumbs-Free AutoGlide Mode! Experience even faster full-body sessions, with a flash to the skin every 0.7 seconds.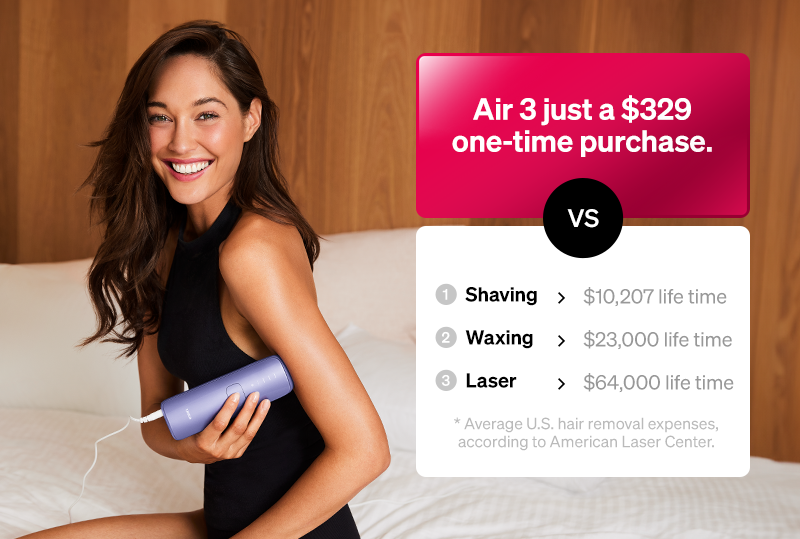 Laser-like Results, From Home
Cheaper than razors, effective like laser.
Say goodbye to the endless cycle of razors and inconvenient trips to the clinic. With Air 3, get laser-like results from the comfort of your home.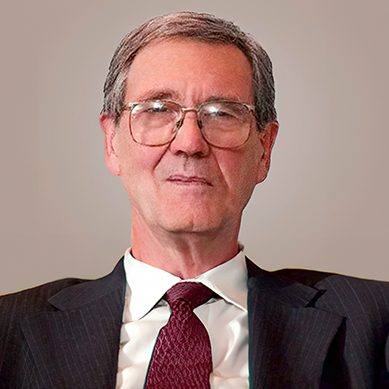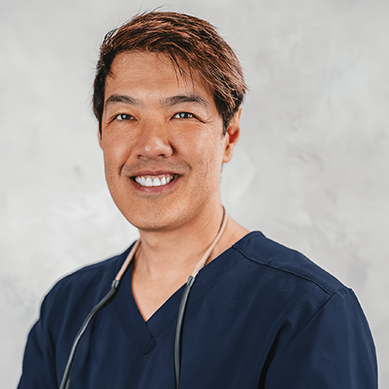 "I am to merge the most important findings in photomedicine research with Ulike's robust research and development capabilities to attain industry breakthroughs with advanced beauty products."
Professor M.R. Hamblin
Chief Scientific Advisor of Ulike Group
A former Principal Investigator at the Wellman Center for Photomedicine at Massachusetts General Hospital, an Associate Professor of Dermatology at Harvard Medical School and is now a Visiting Professor at the University of Johannesburg.
"What was only possible in a clinic a few years ago has become an effective and safe option for patients to undertake at the convenience and privacy of their own home."
Dr. Davin Lim
Board-Certified Dermatologist
An Australian board-certified laser, procedural and aesthetic dermatologist. He is also a distinguished member of the American Academy of Aesthetic Medicine and sits on various advisory boards, including those of Galderma, Fraxel, and Syneron Candella.
Um...how does IPL work?
From intense pulsed light to dormant hair follicles, here's why IPL hair removal is the next best thing.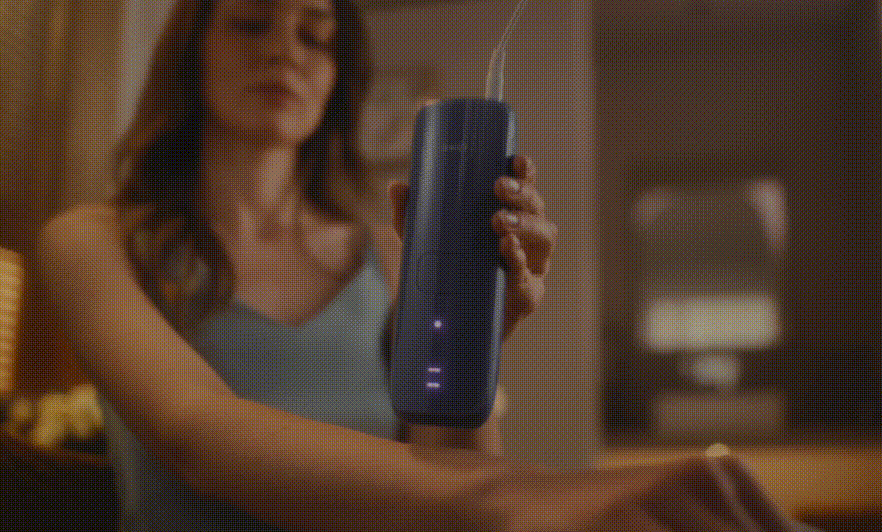 01
IPL stands for intense pulsed light. It's a clinically approved hair removal method that targets the melanin inside hair follicles.
02
The light interupts hair growth cycles, which causes hair to grow back thinner, slower, and eventually stops growing altogether.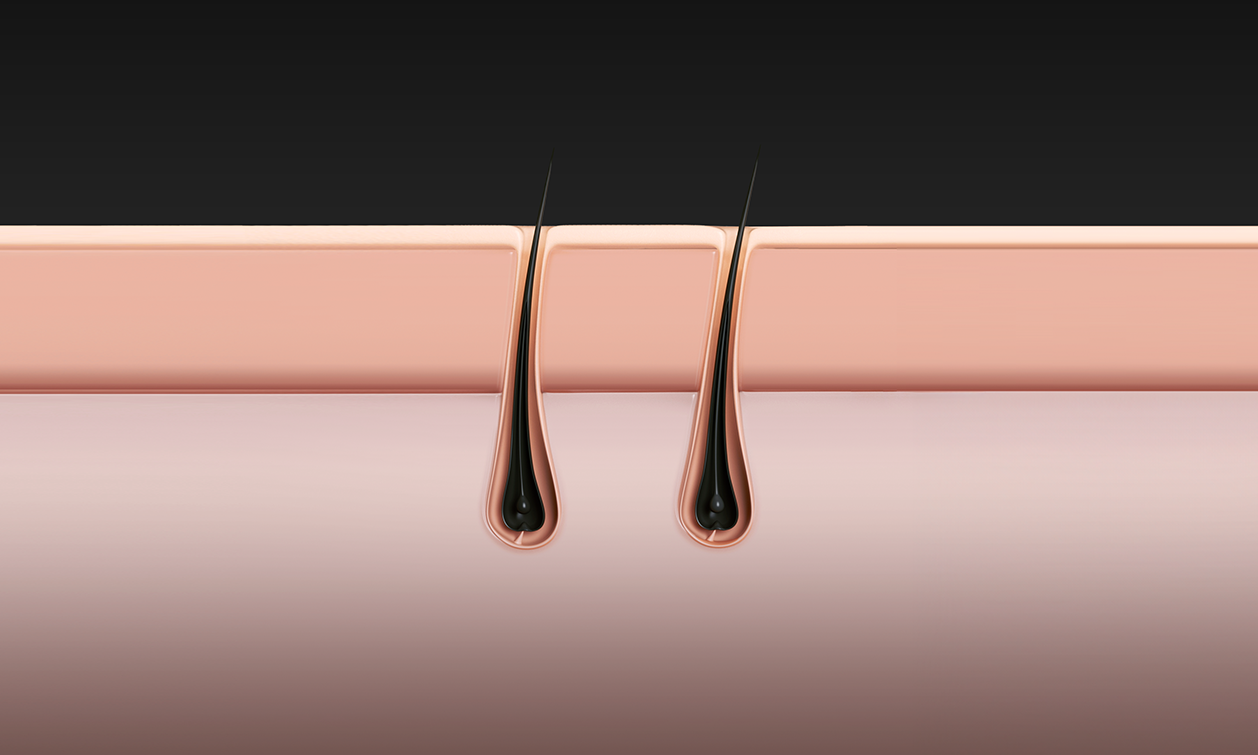 Week
1 - 4
After 3 treatments a week, hair will grow back thinner, softer, and slower.
Week
5-12
To ensure every hair is treated during it's growth phase we recommend touch-ups every two weeks or once a month.
Results
After the full cycle the treatment area should be hair-free. IPL effectiveness can vary by individual, consistency with the recommended cycle is key to seeing the results you want.
Week 1-4
Week 5-12
Results
Air it all out.
Our Hair-free Guarantee
Your happiness is our top priority. If it's not what you hoped for, enjoy a hassle-free full refund.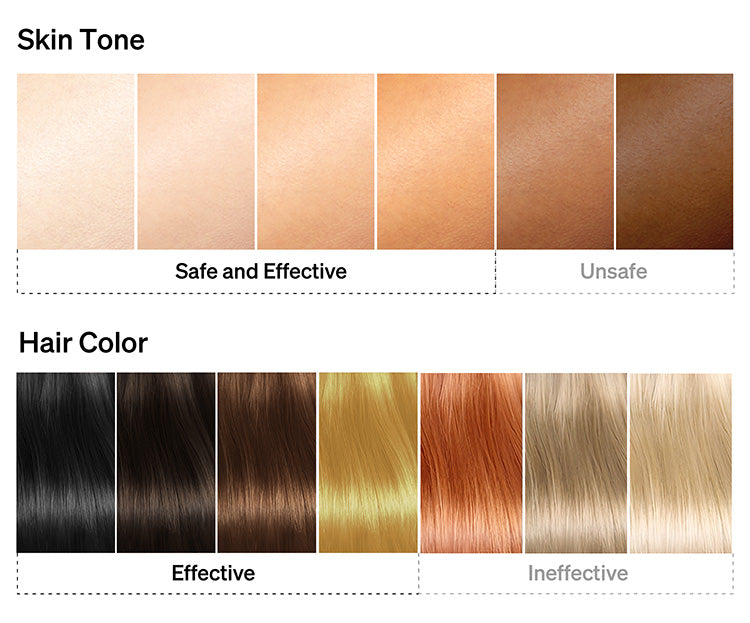 IPL (Intense Pulsed Light) hair removal works by emitting intense light pulses that are absorbed by the pigment in the hair follicles. The absorbed light is then converted into heat, which targets the hair follicles and inhibits future hair growth.

It is important to note that IPL is most effective on individuals with lighter skin tones and darker hair colors. This is because the light energy is primarily absorbed by the melanin pigment in the hair. In individual's skin that's rich in melanin, the excess melanin can also absorb the light energy, leading to potential skin damage.

Similarly, IPL may not be as effective on individuals with light hair colors such as blonde, gray, or red. This is because these hair colors have less melanin content, making it challenging for the IPL device to target the hair follicles effectively.

To ensure the effectiveness and safety of IPL hair removal, we recommend users to refer to the provided skin tone chart before making a purchase.
I'm not familiar with IPL. Is it safe?
IPL is a clinically-backed method for long-term hair removal. Air 3 is FDA cleared, expert backed, clinically tested and complys with international regulation standards. It's safe, effective, and convenient.
IPL hair removal device is not recommended if you have any of the following:
- A known skin disorder
- Skin diseases such as allergic dermatitis, eczema, etc.
- Photosensitive epilepsy or Photosensitivity
- Are menstruating, pregnant, or lactating
- Dark black or Sunburnt skin (please refer to the skin tone chart)
- Broken skin, a scab or healed wound, cancer or hemangioma
- Any artificial aesthetic, prosthetic, or plastic area
- Tattoo area
Why choose IPL technology for hair removal?
IPL, or intense pulsed light, uses strong pulses of broad-spectrum light to target hair at the root. The light is absorbed by the melanin in the hair follicle, where it is then converted into heat, resulting in thinner regrowth and eventually stopping hair growth altogether. Ulike IPL devices are FDA cleared and offer a cost-effective, convenient solution compared to clinic laser and traditional methods of hair removal.
I have PCOS. Is it suitable for me?
Air 3 IPL hair removal is designed to provide long-term hair reduction, even for those with persistant or abnormal hair growth. We recommend consulting with your healthcare professional for specific PCOS related questions before beginning IPL treatment.
How often should I use this product?
We recommend using the device three times a week for the first month to achieve the best results. After that, you can use it once every two weeks or once a month for touch-ups as needed.

Furthermore, we advise tailoring your usage according to your hair growth. If you encounter areas with thicker hair or stubbornness, feel free to elevate the gear level and frequency of usage. Always pay attention to your skin's response and adjust accordingly to ensure your comfort and avoid any discomfort or adverse effects.
Does IPL hair remover hurt?
IPL hair removal is generally considered to be much less painful and nearly as effective as laser hair removal. Additionally, Ulike is the only company that employs Sapphire Ice-Cooling technology to ensure completely Painless sessions.
Can I use the device on all parts of my body?
Yes, you can use Ulike IPL devices on almost every part of your body. However, please avoid using it directly on your genitals, eyes, tattooed areas or parts of the skin with open wounds. To ensure your comfort, we recommend treating sensitive areas such as the bikini area, inner thighs, and buttocks with the lowest power level.
"It offers the  best performance, features and   I could find at a very reasonable price: more for less."

"A beloved laser hair removal device that works to cool the skin and minimize the risk of burns"

"easy, and effective. I have thick and plentiful underarm hair due to my genetics. And 3 weeks in, 6x use I would say I have 75% hair reduction!"

"(Ulike) has the best at-home laser hair removal devices, that are worth the money"

"Ulike Air 3 is comfortable and practically painless to use. You'll become obsessed with the results"

"So happy to have finally found a hair removal product that works. It isn't an overnight fix but man it does work!!"
"Best laser hair removal device...Painfree, quick, and ultra efficient, from beauty brand Ulike"

"Ulike Air 3 IPL hair removal device is less painful and more affordable than clinic laser hair removal"