It can be a frustrating and painful experience getting rid of the hair on your body. The most popular way to remove body hair is shaving, but for some people, it can be painful, produce ingrown hairs, and give razor burn. Not only that, but you can also itch between shaves and scratch unwanted areas, causing your skin to bleed.
Another popular option is wax hair removal, which removes the hair follicle from the root using warm wax. However, waxing hair removal services should be avoided if you are taking prescription medications such as antibiotics, as the hair removal wax may remove the top layer of the skin.
Alternative methods to removing body hair will leave your body feeling silky smooth and are better for your skin. Let's look at a few of the best alternatives to waxing hair removal on the market.
Alternative Hair Removals
Although wax for hair removal is common amongst men and women, there are better options that are gentler for your skin.
1.     
Laser Hair Removal
Targeting melanin at the base of the hair follicle is a key component of laser hair removal treatment. In order to remove hair with lasers, just one wavelength of light is used. One advantage of laser hair removal is that, after a few sessions, hair may be permanently removed.
The drawbacks include high cost and the requirement for multiple treatments. It works best on people with darker hair. Additionally, when performed, it can also result in a blistering and burning feeling. Therefore, before starting this therapy, you should speak with your dermatologist.
2.     
Electrolysis
The removal of hair with electrolysis is permanent. It cannot be undone once it's complete. The FDA has authorized this as a secure hair removal technique. In this procedure, a specific machine uses heat or chemical energy to stop the growth of hair follicles. These follicles are subsequently removed using an additional electric tool that resembles a pair of tweezers.
The fact that electrolysis can be performed on anyone with any skin type and is effective after the procedure is over is a huge benefit. Ingrown hairs are also no longer a concern. On the other hand, this procedure takes a while and may result in very slight skin discoloration.
3.     
Rechargeable Electric Epilators
Epilation is a term used to describe the use of an electrical device to help remove body hair. Various epilators are available on the market, with the brand or model you choose to use only affecting the price. Both wet and dry skin can be used with epilators, but damp skin works best. Therefore, it's better to adopt this hair removal approach while in the shower.
Using an epilator is easy. All you need to do is select a small area to be hair-free, turn on the epilation equipment, and begin the hair removal process. It's advisable to exfoliate your skin thoroughly before you start epilating. Additionally, ensure that your hair is at least 0.5 mm long for optimal results.
Epilation has the advantages of being inexpensive and producing results quickly. However, this form of hair removal is not a permanent solution.
4.     
Depilatory Creams
Some people prefer home grooming with in-store home removal products instead of visiting a salon. Depilatory creams are affordable compared to hair removal wax and other salon treatments.
The cream dissolves hair follicles from the applied region to remove hair. After that, simply wipe it clean, and you're ready to go!
Use a depilatory cream as advised on the packaging if you choose this alternative hair removal option. Additionally, test a small amount first on your skin to be sure you won't experience an allergic reaction. When used incorrectly, depilatory creams can irritate the skin, so exercise caution if you have sensitive skin. Also, some of them smell unpleasant, and the outcomes can differ.
5.      IPL Hair Removal
(Intense Pulsed Light)
As implied by the hair removal method's name, broad-spectrum light is used, and this light damages the hair follicle to either cause it to come out or stop growing. In addition, melanin, a dark pigment located at the base of the hair follicle, absorbs the light. As a result, it generates enough thermal energy to damage the hair follicle.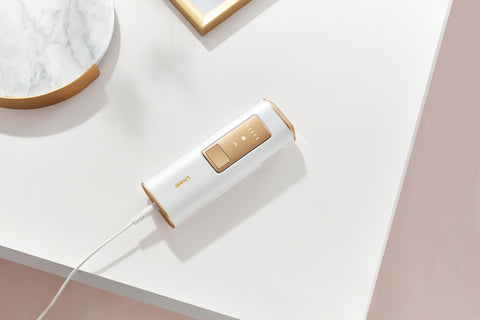 A major benefit to IPL is that you may use a handheld IPL device to perform the hair removal procedure from the comfort of your home. However, it's important to note that this waxing hair removal alternative is ineffective on people with lighter hair colors like blonde, red, grey, or white. Therefore, it works best on people with darker hair colors.
The Ulike IPL Hair Removal Handset is a global sensation, with hundreds of thousands of customers choosing it as their wax warmer hair removal alternative. Its affordability makes it worth owning, and it saves you time!
Pros and Cons of Waxing Hair Removal Alternatives
There are many benefits and drawbacks to using these alternative hair removal wax.
Pros
There is less irritation to the skin

Results are usually permanent over time

These options are more affordable over the long run

These options produce quick results

These hair removal methods are typically successful on all skin types and skin tones
Cons
Skin sensitivity tests need to be performed before use for the depilatory creams

Some methods may cause skin discoloration

Individual procedures can be pricy at a salon

Some results aren't permanent

Multiple treatments may be required

Some procedures may be painful
Pros: Ulike IPL Hair Removal Handsets
Treatments are done away from the salon and can be done from the comfort of your home

Save money by paying once-off for your handheld device. There are no payments for each in-home session.

Results are permanent after a few sessions

In as little as 4 weeks, you can reduce 90% of your body hair

The handheld device is small and compact and perfect for taking on your travels

The special Sapphire ice-cooling technology makes the hair removal process painless
Cons: Ulike IPL Hair Removal Handsets
Only when hair is in the anagen stage of growth can the Ulike IPL Hair Removal Handset be effective. When the hair is actively growing, it is in the anagen stage. During this period, hair grows to its full length.

This hair removal wax alternative is most effective on light to medium skin tones. Because dark skin has more melanin, it may absorb more light energy than is safe, which could be uncomfortable.

Hair that is red, gray, or white is not recommended. These hair colors have low melanin levels and poor light absorption.
Conclusion
There are several alternatives to waxing hair removal services on the market. However, IPL hair removal, specifically the Ulike IPL Hair Removal Handset, is the most affordable, offering results in as little as four weeks.
The Ulike IPL handset is perfect for in-home use and small enough to take with you on your travels. This makes it the best alternative to waxing hair removal services!