Hair removal was only restricted to and for women, except if you were a bodybuilder, cyclist, or swimmer. Most men do not want it completely eliminated, but they do want it thinned out on their back and chest. However, unlike women, for whom hair removal is second nature by junior high, men frequently find themselves at a loss for how to deal with excess body hair, regardless of gender, and hair removal is now kind of a norm. Many ways are used by people to eliminate unwanted hair or to get smooth skin. Even in 1915, Harper's Bazaar (the first women's fashion magazine) promoted "underarm hair removal" as a "necessity." 
Here's the rundown on the most popular hair removal for men available to date.
Types of Hair Removal Method for Men
Standing in 2022, we must say that the word "fashion" means something different to each person. Every single guy has a different taste in fashion, and it's not mandatory that every guy will go for a complete hair removal procedure. Some men like to have body hair; some men prefer to have smooth buttery skin by removing all the hair. Regardless of all personal preferences, this article will provide the best methods of hair removal for men.
Shaving
Shaving with a razor or electric trimmer is the easy and the straight-forward procedure. There is a myth about shaving that after you shave, the hair growth will be double. The myth is anyway wrong because, shaving just cleans the upper part of the hair, so it tends to grow within 4-5 days. The growth rate will be the same. Anyone can opt for men hair removal with razors.
Waxing
Waxing lasts slightly longer than shaving; it basically depends on an individual's hair growth. For some people, hair growth happens after 1 month, some people may experience quicker hair growth too. Waxing a male body may hurt, but it is just a temporary sting and it gets normalized soon. Many men actually go for chest hair removal or beard waxing.
Laser Hair Removal
90% of the people rely on laser hair removal. This procedure can permanently remove hair follicles. It is less painful than waxing. This is a very long procedure. One may have to go for 5–6 sessions, but a laser hair removal is very effective.
Electrolysis
This procedure is one of the most permanent techniques for hair removal. It is kind of similar to laser hair removal procedure. During electrolysis, an electric current is directed through the roots of the hair, killing them and preventing the stem from hair growth. It is recommended for the smaller parts of the body—upper lips, eyebrows, etc.
Depilatory creams
Depilatory creams generally weaken hair follicle and one can gently wash it away. These creams contain chemicals, which might be irritating to some skin types. Users should be aware that this procedure is also painless.
IPL hair removal
The IPL hair removal system is simple to use and produces excellent results. It is safest and is used by dermatologists and beauty establishments. The IPL hair removal plan is available for 500,000 flashes for 5-10 people. This IPL hair removal machine also includes a liquid crystal display for viewing the remaining amount. To prevent waste, it also incorporates a skin sensing mechanism that only emits light when the lamp's head is attached vertically to the skin. Ulike IPL hair removal equipment is recommended by dermatologists and other professionals. Light energy that has passed through the skin's surface is absorbed by melanin present in the hair shaft. The energy is converted into heat energy (below the skin's surface), and eventually Ulike IPL slows and stops hair growth.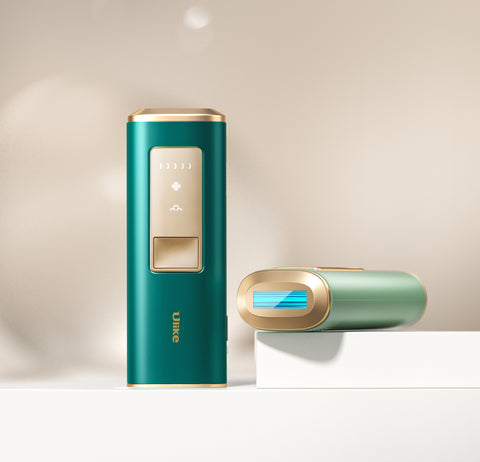 Comparison
When puberty hits, we can see hair growing in many sections of our body. During adolescence, most people want to remove unnecessary hair from different parts of their bodies and want to get rid of it. The methods we use all give great results initially, but there are some important points you need to know. In this article, we will discuss all the pros and cons of each method.
Shaving:
Let's discuss the Pros first:
It is a simple process that requires little to no prior experience.
Easily remove hair from larger body parts, i.e., legs, armpits, etc.
Easy and affordable can be performed at home.
Modern razors come with moisturizers so that skin doesn't get unnecessary rashes.
Sounds too good to be true! Let's do some reality check and discuss the Cons:
The root of the hair cannot be uprooted with shaving. It is extremely prone to ingrown hairs.
For sensitive skin, there is a chance of cuts or inflammation.
When the hair grows again, the skin gets rough and prickly.
Waxing:
Let's discuss the Pros first:
Waxing provides great results while reducing the number of ingrown hairs.
Almost every body part is suitable for waxing.
The hair gets removed from the root and gives smooth skin for weeks.
Sounds too good to be true! Let's do some reality check and discuss the Cons:
The skin might face irritation because of pulling out hair from the root.
The procedure is painful.
This procedure is expensive and requires expert hands.
Laser Hair Removal:
Let's discuss the Pros first:
The hair will be permanently eliminated.
The procedure is less painful.
It can be done in any part of the body.
Sounds too good to be true! Let's do some reality check and discuss the Cons:
Lengthy procedure that requires multiple sessions
Not ideal for darker skin tones.
A few people may feel temporary pain.
Electrolysis:
Let's discuss the Pros first:
Long-lasting hair removal
There are no standardized guidelines.
Sounds too good to be true! Let's do some reality check and discuss the Cons:
It is hard to find experienced technicians.
It can be painful and take a long time to move forward with.
It has many side effects – infection, hypo pigmentation, hyper pigmentation.
Depilatories:
Let's discuss the Pros first:
A service that is simple to obtain and can be completed at home.
The cream helps to uproot ingrown hair.
Sounds too good to be true! Let's do some reality check and discuss the Cons:
 It is not suitable for use in sensitive areas.
Chemicals used in the cream can cause irritation.
IPL
Let's discuss the Pros first:
Painless hair reduction technique; no risk of ingrown hairs.
The results are long-lasting.
suitable for use at home.
IPL hair removal is a low-risk hair removal method with few to no adverse effects.
There are no chemicals or blades involved because it just uses light energy.
Sounds too good to be true! Let's do some reality check and discuss the Cons:
IPL uses intense light pulses to target the melanin that occurs at the root of the hair follicle. High-intensity laser irradiation may temporarily alter the pigmentation of the skin, resulting in discoloration.
Avoiding genuine or fake tanning is an important precaution to take before and after IPL laser therapy. Otherwise it could result in skin damage.
Summary
Although shaving, waxing, and laser hair reduction are the most frequent methods of hair removal, they do not produce the same outcomes as Ulike IPL. They will remove hair, but it will not be permanently removed like IPL hair removals does. Ingrown hairs cannot be prevented by shaving or waxing. Don't worry, 'Ulike' is here to help you out. With zero chances of problems that usually arise after men hair removal. Press the link to know more: https://www.ulike.com/