Polycystic ovary syndrome is a major health issue (related to a female reproductive organ) for a woman. About six to ten percent of women worldwide are facing this which results in infertility in many of them. And, in 50-70% of cases, women with polycystic ovary syndrome may have insulin resistance. Many more health changes are also been seen like high blood pressure, type 2 diabetes, and uterine cancer. Apart from that, a woman also faces many issues in their physical appearances such as acne, unwanted hair growth, and weight gain. In this article, we are going to give you a complete overview about the problem and how to tackle it to achieve a normal lifestyle. Let's first understand what is a polycystic ovarian syndrome?
What is Polycystic Ovarian Syndrome
Polycystic Ovarian Syndrome also termed PCOS is a hormonal imbalance issue that arises in a female body. In this medical condition, the ovaries produce an excessive amount of male hormone (androgen), and along with that many small-sized fluid-filled sacs (cysts) also formed in the ovaries. When the menstrual cycle gets disturbed and the immature eggs (which have to come out) are not properly released, in that case, cysts are formed. The risk of this problem starts when a female body attains the stage of puberty.
Here, one more term, PCOD is also used by doctors that people usually interchange with PCOS. Both conditions are related to the female reproductive system but they are not the same conditions. But the confusion in understanding PCOD and PCOS have been seen among women.
What are the symptoms of PCOS?
The exact cause of PCOS is not available right now. But there are some symptoms which are associated with it. The presence of at least two of the below-mentioned indications is generally considered a diagnosis of PCOS.
On the top of this list, you are missing periods or getting irregular periods.
The second major symptom is enlarged ovaries which consist of many cysts
The high amount of androgen level in the body is also a crucial symptom
You can check whether you have gained weight, especially around the belly area.
Excessive body hair growth is another sign of this issue
Infertility issue
Other symptoms include, Acne or Oily skin, Hair thinning and even Skin tags too.
How is PCOS treated?
Doctors are not able to find a cure for PCOS yet. But some treatments (based on whether you want to get pregnant or not, your age, and the health factor) can help reduce or eliminate a majority of its symptoms. Some of them are mentioned below.
If you are planning to become pregnant then you may include treatments like a change in your diet plan and following regular physical activity or you can follow the prescribed medication which helps the ovaries to release the eggs normally.
But if you don't want to get pregnant in the future then you can follow the multiple options for treatment. Along with a healthy diet and exercise and medication, you can also take birth control pills and diabetes medication on the doctor's recommendation.
Unwanted Hair Growth: A Major Issue
PCOS develops many serious health-related issues in the female body and also affects physical appearance. One of the major issues PCOS contributes to is unwanted hair growth. This is the reason why many women feel uncomfortable and want to get rid of them as soon as possible. Here, you can follow certain methods in the case of polycystic ovary syndrome is also promoting unwanted hair growth in your body. Let's explore the ways with which you can tackle the unwanted hair growth issue.
Shaving
The shaving hair removal method is used by many women as sometimes it becomes the need of the hour. Also, you can use this method at your home. Shaving easily removes the hair from its base and gives a smooth finish for three to four days. Let's now talk about how you can do shaving easily. Moisturize the area which you want to shave first. Then, apply some shaving cream and effortlessly glide the razor to cut the hair. Wash the area and that's it, you are good to go. But here be careful as the sharp razor might give you some cuts and nicks.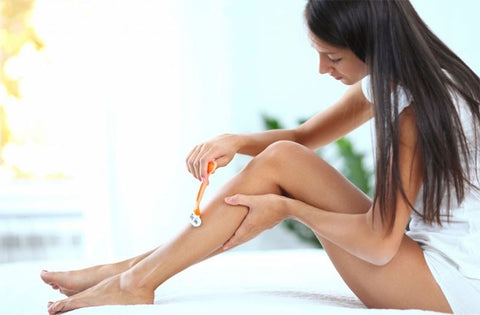 Laser Hair Removal
Next, we have the laser hair removal method which can even give effective results on sensitive skin. The laser technology directly hit the melanin pigment present in the hair and also kills the hair growth cells. You could get the desired result but for that, you have to spend lot of money and time. As this method helps in removing the hair from its root, the task will not be achieved in one single sitting. You have to take multiple sessions for the best results. Women with polycystic ovary syndrome issue can definitely use this method as long as they are willing to spend a large amount of money and time.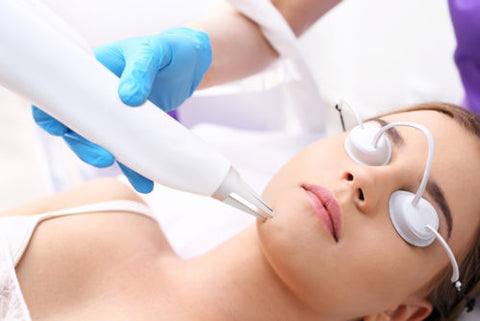 IPL Hair Removal
The intense pulsed light (IPL) technique is a revolutionary product when it comes to hair reduction. And it is getting increasingly popular among women these days. This is the only method that completely eliminates the concerns like the risk of irritation, cuts and nicks, discoloration of the skin, ingrown hair, and many more. And for your convenience, Ulike has come up with an amazing product - Ulike Sapphire Hair Removal Handset that is based on this IPL technology. It's easy to handle design with a temperature control setting that works with pulsed light to target the melanin and reduce hair growth for a longer period of time. You only need to follow the procedure two times a week for five to six weeks, and you can get a smoother shinier hairless skin for a relatively longer period of time.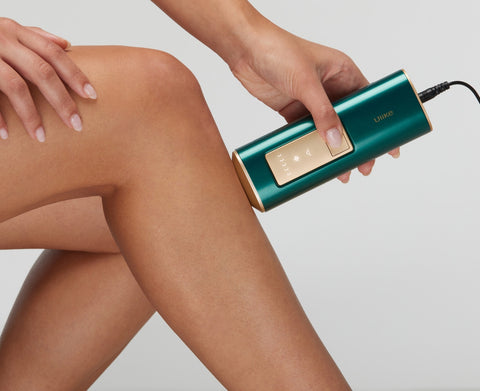 Summary
Generally, the first symptom considered for PCOS is an irregularity in periods. So when you notice that your periods are not coming normally, consult with your gynecologist in the first place. As we have discussed, it can raise mental health issues like anxiety and depression, also may lead to many changes in your physical appearance. Now, to reduce its effect you should follow a healthy lifestyle. And problems like unwanted hair could be solved by the
Ulike
's Sapphire painless hair removal handset effectively.